Home >> Other Mobiles >> Hisense H20 Price in India, features inbuilt AI and 5.84 inch screen with 19:9 aspect ratio
Hisense H20 Price in India, features inbuilt AI and 5.84 inch screen with 19:9 aspect ratio

Hisense H20 Price in India
The market size in China for smartphone is so large despite having plenty of competitive home players, new and new global players foray regularly with new variants. This is also a reason Consumer Electronics Show, Shanghai 2018 which is going on right now is one of the largest show in Asia.
Hisense which is not so well known as compared to top players is also eyeing to make stand for itself and has show cased its latest model Hisense H20 in the event. The brand has unveiled a similar model few days back only.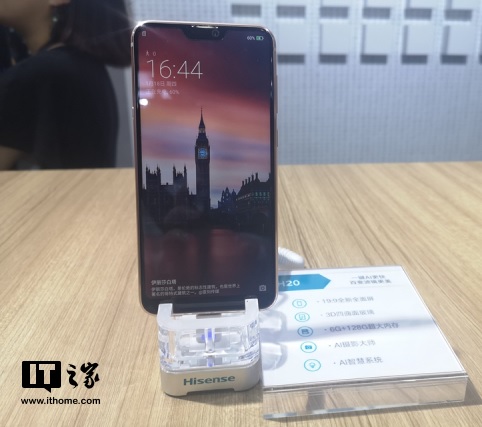 Since this is just a beginning, very few features of Hisense H20 are available so far and most of them what we see on the exterior on the model. In some of the aspects this model is remarkably different than what many would have been seeing. Starting with design, it encompasses a truly high end model and hence can be taken as a style statement also.

Coming to functional aspects on upcoming smartphone Hisense H20, it poses dual camera on rear end which some suggest may be combination of 12MP+5MP. The selfie shooter is 20MP and both the cameras are empowered with AI to give more than expected level of output. Also the model carries a finger scanner on the same side which will be used to unlock the phone.

Hisense H20 come with 5.84 inch screen with 19:9 aspect ratio quite different than 18:9 we normally see and actual will be realized once you this phone into use. Not only 6GB RAM will give you special appeal, having Qualcomm Snapdragon 636 chipset is one more addition which will boost the performance level. With Android 8.1 Oreo OS, it goes without saying there is no parallel when it comes to performance. Since it has inbuilt AI, you will need to put lower efforts but will get better output.

The upcoming model Hisense H20 is set for sale on June 26th, 2018 but no details have been revealed on pricing side. Hence information on Hisense H20 price in India will be slightly early to predict at this stage.

Hisense H20 Features list India
5.84 inch screen with 19:9 aspect ratio
12MP+5MP back camera
20MP front camera
Both cameras with AI
128GB ROM
6GB RAM
Sleek design
Android 8.1 Oreo
Snapdragon 636 SoC