Huawei MatePad Tablet Price in India, flagship tabs coming for premium end users

Huawei MatePad Tablet Price in India
There is one more flagship line of tablet in the form of Huawei MatePad is expected to come out in the market from the Chinese brand Huawei. Already the company is selling Mate series of flagship smartphone which has been quite successful also.
It is quite likely Huawei MatePad series of tablets will be for the upper end of the market which quite premium quality of features. The company has filed patent application for Huawei MatePad with the European Union Intellectual Property Office (EUIPO).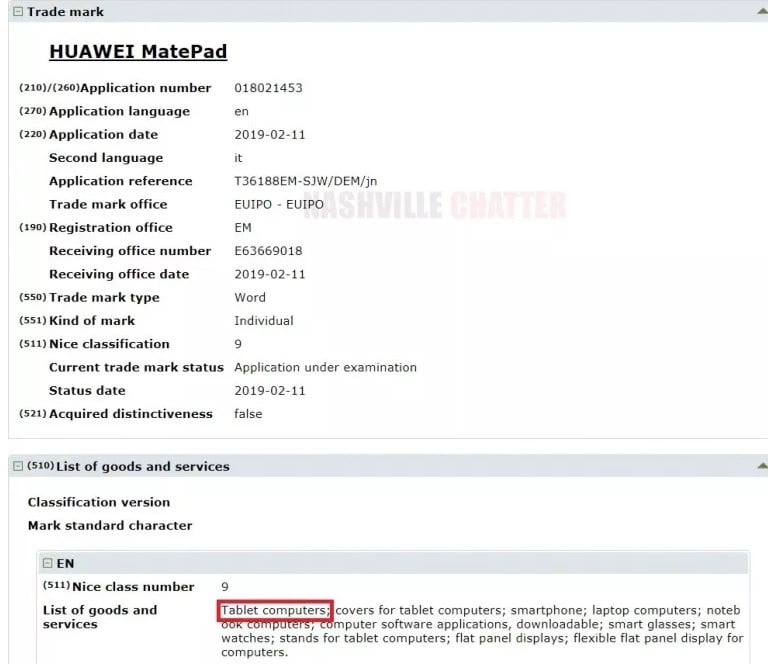 In this filing, only thing has been revealed is it will be tablet computer and we need to wait for more information (also read Huawei Mate P20 Pro). The launch of Huawei MatePad series tablets probably will happen during the current year 2019 only. In the Mate series of smartphone Huawei has come out with top notch display and Kirin 980 chipset and the last model hit market in last quarter of 2018. In the upcoming Huawei MatePad tablet series we may get to see same Kirin 980 chipset.

Since Huawei MatePad tablets are going to be for high end consumers, its screen size will be towards larger end probably. Other features like RAM, ROM and camera quality will be more evident with the passage of time only (check out Huawei Mate 10 Pro in India). Probably Huawei MatePad tablets may come out as competitor for Samsung Galaxy Tab S5 which is expected to come out in the year 2019 itself.

The brand has become more aggressive recently and has been coming out with smartphone in P series which have been doing quite well in the market. It has good hold in the Indian market also. It would be interesting to watch out for Huawei MatePad price in India and its other specifications list.

Source: IMAGE