Huawei Nova 7i Price in India, Features 40W fast recharging and dedicated MeeTime for video calling

Huawei Nova 7i Price in India 2020
Chinese player Huawei is always in the news not only in India but in other countries also like US and UK and not to mention China. Both controversies of its 5G network and success of its models keep the brand float in the media. its known for country specific models and Huawei Nova 7i is one such name to hit Malaysian market soon. In coming days we may also see Huawei Nova 7i launch for Indian market at expected price of around Rs. 22,000. The Huawei model Nova 7i is going to be a smartphone which does not have top notch features but better than one would expect in a similar price model.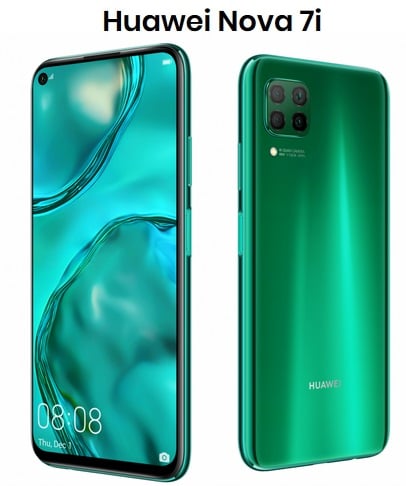 Huawei Nova 7i is going to be the one of few early models in low price range to come out with Android 10 OS (EMUI 10.0.1) and may have support for 5G network as well but in a market like Malaysia and India, its usability is quite low (also compare with Huawei Nova Lite 4).

The launch of Huawei smartphone Nova 7i will take place on Valentine Day i.e. Feb 14th, it has special MeeTime app for video calling which youngester would enjoy. With 6.4 inch screen with full HD display and 16MP selfie camera, Huawei model Nova 7i is quite awesome model in low price range this application. With 8GB RAM and Kirin 810 processor, there will not be any time lag when you do video calling or streaming videos on net (also read similar model Huawei Nova Youth Edition).

One has to be careful in making conclusion about rear end camera of Huawei Nova 7i which is 48MP main camera, 8MP ultra wide camera, 2MP depth and 2MP macro camera. Having quad set is quite appealing but if you need very clear videos and image for a very near objects, macro camera of just 2MP may not be very satisfactory. Even models like Samsung Galaxy A21s which are at almost 50% lower price have that configuration.

When it comes to battery, Huawei Nova 7i is quite appealing as it has 40W charging and it would take just 30 mins for 70% charging. Recently we have seen arrival of Huawei MagicWatch 2 Limited Edition for UK market and waiting for Huawei Honor V30 Lite in Indian market.

Soon we will update on Huawei Nova 7i price in India with complete details on its features and specifications.

Huawei Nova 7i Features list
6.4 inch full HD display
8GB RAM
40W fast charging
48MP+8MP+2MP+2MP quad side camera
16MP selfie camera
Finger scanner on side
128GB memory
Android 10 OS
Kirin 810 processor
MeeTime dedicated to video calling
4,200 mAh battery