Micromax Bolt Q3001 Price in India, exclusively for 3G network with limited features

Micromax Bolt Q3001 price in India
It can mainly be attributed to the size of the Indian market where not everyone is expected to adopt latest technology and hence there are quite large number of users still on 3G.
But since competition has moved to 4G smartphone, we have started seeing its impact on 3G smartphone which are now a days as much value for money proposition as they used to be once. Micromax Bolt Q3001 is one such smartphone which is meant for 3G network but when we analyze its features quality against price, there is not much excitement on the way.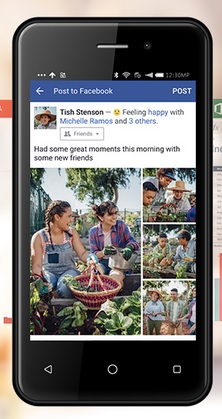 After little search, we found Micromax Bolt Q3001 price in India at some of the portals have been suggested at Rs. 6,999 though its neither official and nor cross verified, is much on the expensive side only. In this price range, one can get 4G enabled smartphone which will not only work on 3G but also poses much better quality features. In fact if you have tasted 4G smartphone, there is hardly any chance you would find it interesting to use models like Micromax Bolt model Q3001 even as back up model.

The first important features in Micromax Bolt Q3001 and in any other smartphone for that matter is screen and this has just 4 inch one. This is just not appealing for video chat, games and no way for playing games with HD quality formats. Adding to disappointment in Micromax Bolt phone Q3001 is camera as it has only just 5MP with flash on rear end and 2MP on front end and both of these are without auto focus quality. When latest fashion is for 4 set cameras, having this type of combination is certainly not up to the mark.

With just 4GB storage capacity in Micromax Bolt Q3001, its just 50% of what is minimum we have been seeing even in basic smartphone meant for 4G network. Also 1.2GHz Quad core processor is not going to be any great impressive. with just 6 hours of talk time on 1,400 mAh battery, upcoming Micromax smartphone in 2018 Bolt Q3001 is only suitable for low to medium end of usage.

However, Micromax model Bolt Q3001 has been claimed to faster in downloading file as compared to other models in 3G network. Also it has better performance when it comes to multi tasking which is also again in comparison with 3G models only. Lets hope official Micromax Bolt Q3001 price in India finally turns out to be much lower than what its being talked now. Its listed on Bangladesh official site of the company and soon may appear in India as well.

Micromax Bolt Q3001 Features list
4 inch TFT screen
1.2GHz Quad core processor
4GB ROM
3G network only
black color model
1400 mAh battery, up to 6 hours talk time
Faster download, multi tasking
5MP camera with flash and FF on rear end, 2MP on front
GPS/Bluetooth/Wi-Fi
111.5 g weight, 125.5*64.5*10.7mm dimensions