Micromax X421 Price in India, very basic model for 2G network services

Micromax X421 Price in India
It has been long time we saw good Indian feature phone model and partly because the demand for them is quite low. However there are select users in rural areas and low income segment which are still hovering onto 2G network and for them Micromax X421 is quite suitable. In the coming time, we would see downward trend for 2G feature phone irrespective of their affordability. Micromax X421 price in India is Rs. 8,99 which Flipkart has claimed to have come down after 50% discount.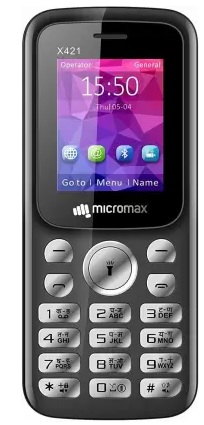 With 5G phone are heating up in the Indian market, the features of Micromax X421 which is 2G network model are at the other end of the spectrum. The phone carries 1.77 inch screen with alpha numeric keypad. Micromax X421 also has 0.3MP rear end camera which has simply gone out of usage due to low quality (compare with Micromax X371).

Users will get dual SIM on Micromax X421 but most will be using single SIM slot only. Gone are the days when dual SIM on 2G used to be very much in demand in India. In the 32MB RAM and 32MB ROM, not much scope is there for storage. Your phone will be full of memory if you try to save couple of images even.

The keypad and overall design of Micromax X421 is quite good if you review from a 2G usage point of view. Its very light in weight and easy to operate also. With 1,800 mAh battery, seamless calling and messaging will be smooth but one can not expect it to last very long on FM radio. At the current level, Micromax X421 price in India at Rs. 899 is quite justified.

Micromax X421 Features list
1.77 inch screen
Alpha numeric keypad
32MB RAM
32MB ROM
FM Radio
0.3MP rear camera
1,800 mAh battery
2G network
191 grams weight
Dual SIM
Battery stand by time: 18 days
Bluetooth