Nokia 7 Plus Price in India, features promising based on details on benchmark

Nokia 7 Plus Price in India
There are certain platforms where if we spot any smartphone or any other device, one can take be sure the product is going to hit market soon. Its as good as official announcement and have been great deal of information for upcoming model.
Yesterday Nokia 7 Plus was listed on Geekbench benchmark with few basic features details though we have been waiting for quite some time since the launch of Nokia 7 in China. There is quite bit of improvement one would see in Nokia 7 Plus over Nokia 7 which is clear from the spotted specifications also.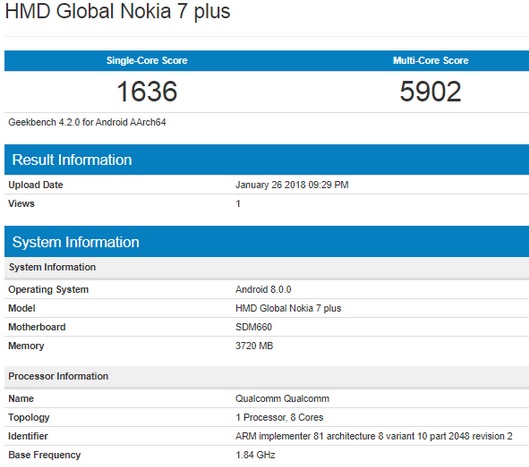 Before we dwell more on the launch part, lets try to see if Nokia 7 Plus price in India will be in same line as Nokia 7 model which is again expected to be around Rs. 20K. The price of Nokia 7 Plus in Chinese market where exclusively its available now indicates so.

Coming to launch of Nokia 7 Plus, it may not happen during the World Mobile Congress, but it may get official announcement. There are some models like Nokia 3310 4G and Nokia 9 which are also being eagerly awaited in the market.

Though very few features of Nokia 7 Plus are revealed but they give clear hint on what more can be expected in the list. The smartphone comes with Android 8.0 Oreo out of the box which will give a long span of time before one would look for next version OS.

Also Nokia 7 Plus encompasses Snapdragon 660 Octa core processor as compared to 630 in Nokia 7 which we indicated in the start also leading to better processing. The 4GB RAM available in this model will also be great boosting package for even better levels in performance.

Since base model 7 comes with 5.2 inch full HD IPS screen, Nokia 7 Plus shall at least have this configuration if not better (read old model Nokia 206).

We are looking forward for official launch of Nokia 7 Plus in Indian market and accordingly we will update on Nokia 7 Plus price in India as well for 2018.

Nokia 7 Plus Features list India
5.2 inch full HD IPS screen
4GB RAM
Qualcomm Snapdragon 660 Octa core processor
Android 8.0 Oreo OS
64GB Memory
Very thin bezel