Home >> Reliance Jio >> Reliance Jio Phone delivery started in phased manner, completion before Diwali
Reliance Jio Phone delivery started in phased manner, completion before Diwali

This Diwali there is one more gift people can give if they like to which has multiple usage and will turn down your bills for a very long time. Finally there is end to the long awaited Reliance Jio Phone as the it has been officially announced officially and in fact delivery has already started.
There are many users who have been eagerly waiting for Reliance Jio Phone to start getting delivered at least during this season so that it adds to their happiness index on this festival.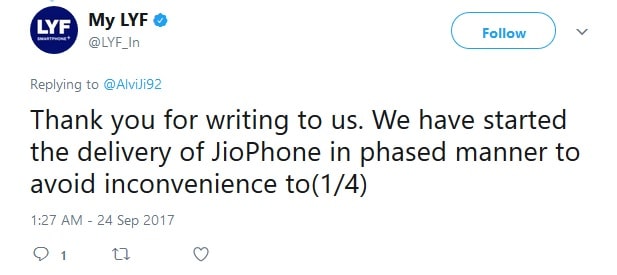 There was almost 2 delays already and some rumors had it that Jio Phone delivery will be in the month of Oct. 2017. Though even now after official start of Reliance Jio Phone delivery, company has announced to complete delivery before diwali i.e. 19th. It means for most customers, Reliance Jio Phone will come to them in the month of Oct. only. However since delivery has started, it give them confidence that now in coming days they will get it and there are no more delays in the pipeline.

Reliance Jio Phone delivery has been started in phased manner for convenient supply and rural and semi urban users may get it slightly ahead of others. One do not have to call or visit any store for getting delivery of Reliance Jio Phone as he will get all the information through message on their phone.

The process of receiving Reliance Jio Phone from retail stores will remain the same. One has to produce Aadhar card, Rs. 1000 due amount and also code he has received from Reliance Jio Phone. If you return this handset after three years, the full amount will be refunded. There may be some terms and conditions which one has to dig in for better clarity.

One should not worry about voice calling on Reliance Jio Phone as Reliance Chairman Mukesh Ambani has confirmed it will always be free and users have to pay just Rs. 153 for data usage on monthly basis.