Samsung Galaxy A41 Price in India 2020, features leaked including octa core processor

Samsung Galaxy A41 Price in India 2020
Last year it was not so exciting for smartphone players and hence they want to make up for that in current year 2020 and it will be seen very much in live action on MWC 2020 hopefully. Koran player Samsung has come out recently with couple of updates like updated Samsung Good Lock app 2020, presence of S Pen first time with a smartphone in Samsung Galaxy Fold 2 etc. Now it has got FCC listing for Samsung Galaxy A41 which is low price model (expected price Rs. 21,500 in India) but quite good on performance. There have been marked changes in the features quality which were noticed on the listing also.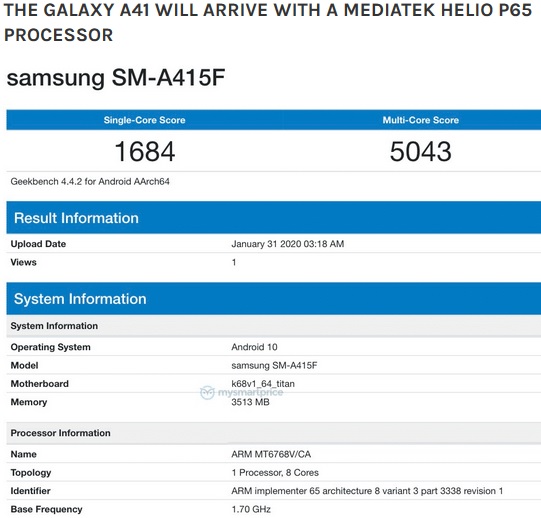 Despite being a low price smartphone, Samsung Galaxy A41 is already built on Android 10 OS platform which was not a common practice in the past. The models from players like Samsung does not get compared with similar priced models from Xiaomi, Vivo etc. on face value but one has to evaluate overall performance only.

Another important feature of Samsung smartphone Galaxy A41 listed on FCC is MediaTek Helio P65 Quad core 1.70GHz processor which is quite good for a low price model. On board the smartphone carries RAM of 4GB which is more in the modest range. Its expected the Samsung Galaxy A41 will be slightly better than A40 but step back from A51.

Lot more details are awaited on the Samsung Galaxy A41 which will give final rating of this model. Given the fact its coming to US market, most probably it will have support for 5G network also. In India, launch of Samsung Galaxy A41 can be expected during the last phase of February 2020. Already there are few models like Samsung Galaxy Note 20, Samsung Galaxy A21s and Samsung smartphone Galaxy A31 in low price range are expected in the year 2020.

We will post information on latest Samsung Galaxy A41 price in India 2020 here along with full list of features like screen size, battery, front camera, main camera and specifications for this model.

Samsung Galaxy A41 leaked features
Android 10 OS
4GB RAM
Helio P65 processor