TVS iQube Electric Scooter Price in India, launched only in Bengaluru at 3 showrooms

TVS iQube Electric Scooter Price in India
In recent couple of quarters there has been slow down in the demand in the auto sector which has been a major concern for the government also. The slow down is seen in two wheeler as well as four wheeler segment which the company are struggling to deal with and festive period have not brought any good news. But that does not stop launch of electric scooters in India though the pace has been reasonable only. TVS which has popular two wheeler models like Victor model has launched TVS iQube Electric Scooter, a very pleasing model with stylish design and set at price of Rs. 1,15,000 in Indian market (also read TVS Phoenix 125).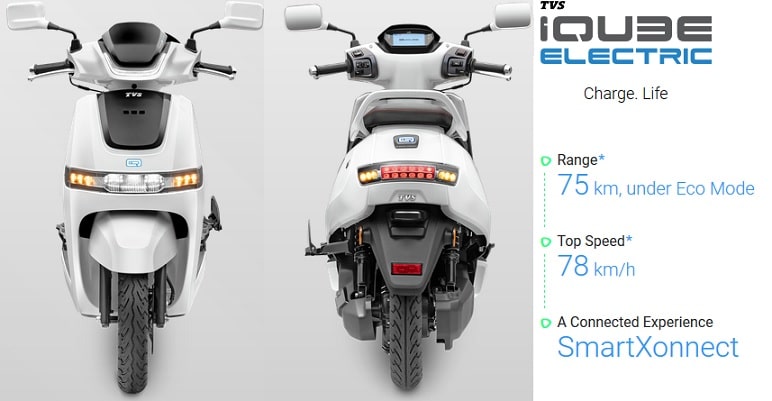 However this is not the way to judge the cost of electric vehicles in the market. When some one buys an electric scooter like TVS iQube Electric Scooter, he will save on running cost through using cheaper fuel i.e. electricity. This model will save in a normal case around Rs. 60,000 over a petrol scooter and over a period of 5 years, there will be saving of Rs. 60,000 and hence factor this and that see if TVS iQube Electric Scooter price in India at Rs. 1,15,00 is costly or dearer for you.

When it comes to performance, TVS iQube Electric Scooter can reach a speed of 40 km/h in just 4.2 seconds and hence can be said to have a good pick up for a electric two wheeler. The maximum speed one can enjoy on this model is 78 km/h and with full recharge riders can travel up to 75 km. Hence for ride with in the city and daily routine travels, TVS iQube Electric Scooter will fit into your demand. If battery gets exhausted, you can always look for nearest TVS and its partners charging point near to your location on its SmartXconnect option through TVS iQube app.

Coming to design part, TVS iQube Electric Scooter has LED headlamps with very stlish design and very clear line fitting. It has weight of 118 kg and easy to pick up even if it falls by mistake. TVS model iQube Electric Scooter comes with home kit which you can get installed for free for charging safely at home. The charging of TVS two wheeler iQube Electric Scooter can be monitored on the app also. With all these, TVS iQube Electric Scooter price at the current level of Rs. 1,15000 seems quite appealing.

TVS iQube Electric Scooter has been launched in Bengaluru only in India and available three showrooms i.e. Trijal TVS showroom in Marathahalli, Suryapratap TVS in Krishnarajapura and Bengaluru TVS in Haralur. In cities like Delhi, Mumbai, Chennai, Hyderabad, Kolkata it may be launched in coming period in 2020.

TVS iQube Electric Scooter Features
travel distance in single recharge: 75 km
Accelerator: 0-40 km/h in 4.2 seconds
LED head lamps
118 gram weight
Peak torque: 140 nm
Water and dust resistance: IP67
Gradeability: 10 degree
Front suspension: tele scopic
Back suspension: hydraulic twin tube shock absorber
Motor: 4.4 kW
Charging: 5A socket
Important links: