Home >> Other Mobiles >> Ulefone Armor X6 Price in India, Features water proof cameras and Bluetooth
Ulefone Armor X6 Price in India, Features water proof cameras and Bluetooth

Ulefone Armor X6 Price in India
Now the aspirations of the customers in India from smartphones is quite high and even first time users look for unique and niche features. Hence some of the brands keep on coming with models which are available at low price but have few features from top end category.
Ulfone is known for rugged models but their typical price range is slightly higher but its coming model Ulefone Armor X6 is quite different. The model is IP68 and IP69K certified but the price level of around Rs. 5,000 which is far lower than Ulefone model Armor X price which is around Rs. 36,500 in Indian market.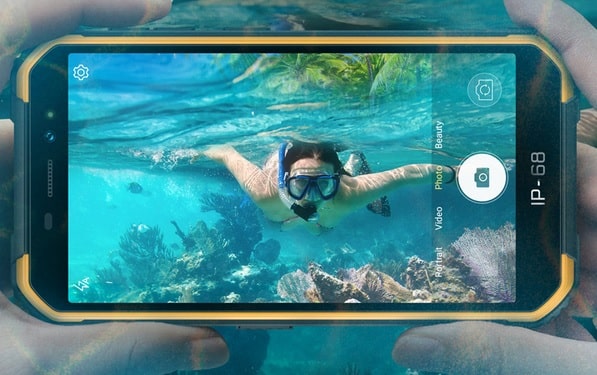 In a model like Ulefone Armor X6, one also has to be ready with other features which may not be that much exciting. such models are mainly targeted for niche consumers who weigh ruggedness very high and do not weigh other features that high. In India, arrival of Ulefone Armor X6 is expected in coming weeks but one shall not consider it has successor of Armor 6 but a cheaper version of it (also read Ulefone Power 3).

When Armor 6 has 6GB RAM and 128GB ROM, the new model Ulefone Armor X6 has just 2GB RAM and 16GB ROM which may look at step back in terms of quality but this is reality. Since the smartphone has Android 9.0, one can easily guess what to expect in terms of performance in such a combination.

With its ruggedness, Ulefone Armor X6 can sustain drop for 30 mins in a water of 1.5m depth. Interestingly the model has water proof 8MP camera and you can enjoy taking images and recording videos inside water also. Ulefone Armor X6 is very much suitable for people in rescue works, deep water navigation and fire safety industry etc.

Shortly we will update information on Ulefone Armor X6 price in India in 2020 for online buyers. The company has affordable price models Ulefone MIX and Ulefone S7 smartphone in the market already.

Ulefone Armor X6 Features list
5.0 HD display screen
MT6580 quad core CPU with clock speed of 1.3GHz
Water proof bluetooth and USB
2GB RAM
16GB ROM
128GB expandable memory
8GB main water proof camera
5MP front camera
4,000 mAh battery
13 hrs talk time
3G network support
Dual SIM
IP68/69K certified
Water proof level: for 30 mins in 1.5m, 24 hrs in 1 meter deep
Android 9.0 Pie OS
Face unclock in 0.2s
Color models: orange, black
Gloves mode to operate with gloves

Source: Ulefone Armor 6 official site