Home >> Other Mobiles >> Ulefone Power 3 Price in India, extra ordinary feature list on multiple fronts
Ulefone Power 3 Price in India, extra ordinary feature list on multiple fronts

Ulefone Power 3 Price in India
Now its the time we get to see more and more Oreo powered smartphone as some short of boredom has started to come from Nougat now. This is simply a next generation smartphone and certainly pave way for the features which people have been just talking about only.
We are talking about Ulefone Power 3 which after close analysis of features seems to be a must have smartphone and surprisingly will not cost much as well. Despite being a 4G phablet, Ulefone Power 3 price in India will be in the range of Rs. 12-15000 though its looks worth much more.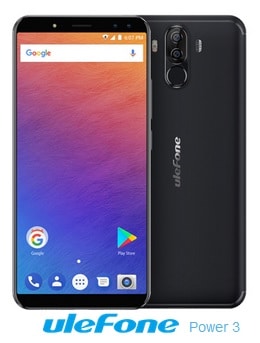 With 6 inch screen, Ulefone Power 3 is more a phablet than a smartphone which is also a new segment building up gradually. With 18:9 aspect ratio, almost 90.8% of the areas will be up for usage giving much larger screen to put icons and work in broader perspective. Ulefone smartphone Power 3 may become on the earliest smartphone with a 6GB RAM which is jump ahead of 4GB what usually we have been seeing (also read Ulefone MIX).

With World's first MT6763 CPU in its features list, Ulefone Power 3 is going to go crazy when it comes to processing power. On the top of this, Android 8.0 Oreo will do the needful to ensure there is no let down even when there high level of multi tasking. However Ulefone Power model 3 is not going towards the split screen models which makes it even more easy to work in multi tasking.

Ulefone Power 3 packs 64GB of ROM which makes it very close to tablets which is also the ultimate object of the company as well. There is more surprise on the battery side as well since 6,080 mAh pack will give 75 days of talk time and 63 hours of talk time. Ulefone model Power 3 is quite simple as well as it will support even 2G SIM apart from 3G and 4G. If some one is looking for drawbacks in Ulefone Power 3, than its 9.85 thickness and 210 gram weight with battery.

We will report best online accurate Ulefone Power 3 price in India once it is launched in the market.

Ulefone Power 3 Features list in India
6 inch FHD screen with 2160x1080 pixel
64GB ROM
6GB RAM
6,080 mAh battery with 63 hrs talk time
2G, 3G, 4G
Android 8.0 Oreo
16MP+5MP camera at rear end
13MP+5MP camera for selfie
Fast charging
2.0GHz Octa core processor
210 gram weight
9.85 thickness