Vivo U1 Price in India, Features U shaped screen design, available in 3 different models

Vivo U1 Price in India
It was quite common to expect new smartphone launches on the platform of MWC 2019 on Feb 24th but suddenly there is official confirmation from Vivo about its new low price smartphone.
In fact for MWC event also the company has couple of high end 5G models like Vivo iQOO lined up which will keep it at par with other competitors. Now suddenly it has also announced Vivo U1 which is new U series model where U stands for water drop notch basically.Having multiple models with variations in RAM and ROM will enable it to target relatively wider range of end users.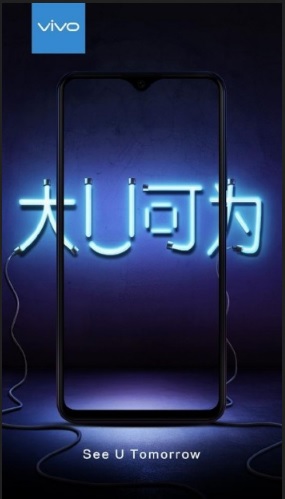 One can say design of screen in Vivo U1 as water drop notch or also U shaped as the model name is also derived from the same. Basically water drop notch where in only selfie camera is placed in front top, looks like a alphabet U and hence a new terminology for the same design. As per official confirmation, Vivo U1 will be launched tomorrow in China and soon will follow path to other countries probably (also read Vivo V91C smartphone).

There is 6.2 inch screen in Vivo U1 with more than 80% screen to body ratio which is keeping pace with latest trend in the market. Normally low price smartphone carries screen of less than 6 inch. It will run on Funtouch 4.5 OS and designed in multiple colors like blue, black and pinck etc. As mentioned in the beginning, users can choose models from RAM/ROM combination of 3GB/32GB, 3GB/64GB, 4GB/64GB. Weighing only 163.5 grams, its more a sleek model with 8.28mm thickness.

There is not much excitement on the camera from at it has 13MP front shooter with f/2.2 aperture and 8MP selfie camera. So overall its more for users who need mediocre model with latest design. Price of Vivo U1 will vary from $155 to $175 depending on the model you choose. It is quite well expected in the Indian market also.

It may come in in the month of Feb or March and Vivo U1 price in India in 2019 for different models will range from Rs. 6,000-9,000 (expected).

Source: One, Twitter