Home >> Other Mobiles >> Vodafone Smart N9 Price in India, reasonably well features list with safety in mind
Vodafone Smart N9 Price in India, reasonably well features list with safety in mind

Vodafone Smart N9 Price in India
In the ongoing time, security is key concern in the smartphone usage and not many offers solution when it comes to low price models in the market. This is one key aspect which will attract you to Vodafone Smart N9 which has noticeably better feature over Vodafone Smart N9 Lite; both of which have hit market at the same time today.
It has been relatively long time we saw new model from this brand in the market. Since price of Vodafone Smart N9 is only £109, as a value for money model it is quite appealing.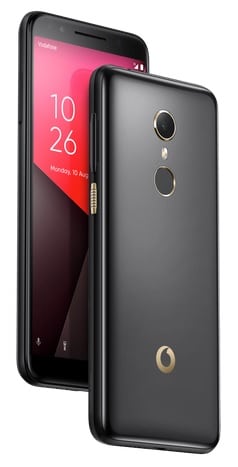 Some of the key difference one would find on Vodafone Smart N9 over Lite version are finger scanner, larger screen, better cameras and larger RAM. However if you are average users with most of the activities are limited to light to medium apps, you may not even notice the impact of them so often.

The new smartphone Vodafone Smart N9 has been powered with 5.5 inch HD screen as compared to 5.34 inch in Lite model. Instead of 1GB RAM, here you would get 2GB RAM though ROM and expandable memory stands at the same level in both i.e. 16GB and 32GB respectively. There is Android 8.1 Oreo here for better and smooth functioning. On the back side one would get finger scanner which will also act as your password.

On the rear end, Vodafone Smart N9 comes with 13MP camera with flash, if you are getting used to double camera than think again. For selfies having 8MP shooter shall not be a problem in a low price model. Available in silver aluminium and black titanium the smartphone is simply amazing in looks. With 2,900 mAh battery at least reasonable talk time can be expected on 4G network services (also read Vodafone Smart III in India).

Once its launched, Vodafone Smart N9 price in India 2018 may come around Rs. 7,000.

Vodafone Smart N9 Features list India
5.5 inch HD screen
2GB RAM, 16GB ROM
32GB expandable memory
2,900 mAh battery
Silver Aluminium, Black Titanium
Weight: 145 grams
Dimensions: 147.1 x 68.8 x 8.7mm
13MP main, 8MP selfie camera
Finger scanner at rear end
Android 8.1 Oreo OS