CAT S32 Price in India
Military seems to be the inspiration behind onset of rugged smartphone and so as the appeal for them in markets in different countries. Certainly when smartphone offers multiple applications for running, hiking, swimming it makes good sense to have models which are specially fit for them. CAT is well known brand when it comes to rugged models and CAT S32 is new addition in 2020 in this category. Recently we reported DOOGEE S90 Pro rugged phone which has slightly edge over this model. The CAT S32 phone price in India is expected to be around Rs. 25,000 which is little bit surprising.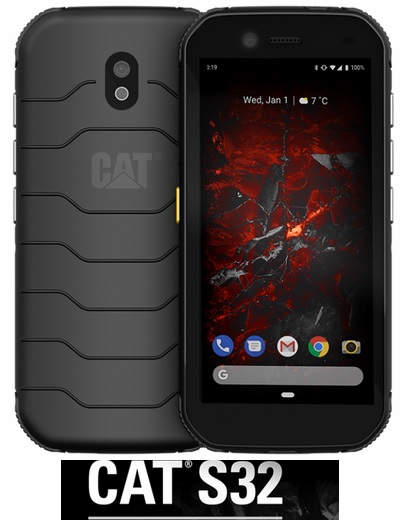 CAT S32 Features list
5″ HD+ 18×9 display
3GB RAM
32GB ROM
13MP rear camera
5MP front camera
2 Years warranty
Bluetooth 5.0, NFC
4,200 mAh battery
Dual SIM
IP68 Certified
LTE Cat 6, VoLTE, VoWiFi
Helio A20 MT 6761D chipset, 1.8GHz quad-core processor
When we talk about rugged phone like CAT S32, the first feature one would like to analyze is its ruggedness. The phone is IP68 certified and can withstand water up to depth of 1.5 meters for 35 minutes. The DOOGEE model mentioned above can withstand up to a week time which is quite remarkable. Also it has been tested one can drop CAT S32 from a height of 1.8 meters on steel multiple times and there will not be any breakage.
Coming to other features of CAT S32 smartphone, it has 13MP rear end camera which usually we see in budget models. One would have in mind multiple cameras, AI module for better photography, all that is simply not going to be the case here. Similarly CAT S32 has just 5MP front shooter which also seems does not have sensors even. One can dig in on official site of CAT for better details.
With 5 inch HD screen, CAT S32 is more for medium level of experience which may be while playing games, watching movies etc. If some one is so not looking for top notch features but for traditional ones, CAT S32 will be case to look for you. Hope to see CAT S32 price in India 2020 in expected range and in higher price rage of models like CAT S60 Black which are being sold at Rs. 46,000 approx.
Source: CAT official site and CAT S32 Press release