Celkon C410 Price in India
It is little surprising that there is increased focus on the feature phone market as well along with 4G and 3G segment from both mobile manufacturer as well as service providers in India.
With regular intervals we have seen launch of 2G feature phones in the market and Celkon C410 is one more model in the category. Price is always key to them and the improvement in feature list is not so drastic what we see in 4G models but still it makes some bit of sense.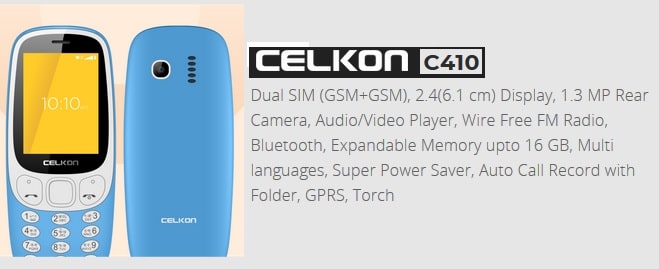 Some one who is comfortable buying from online stores for them, Celkon C410 price in India is Rs. 1,199 with additional cost of shipping they may have to bear coming around Rs. 35 or so. For other category of users price of Celkon phone C410 can be little on the higher side. The 2G segment is going to stay for quite long time in India and hence would always find great deal of interest on these model though they look pathetic against any 4G model (also ready Celkon C30).
Celkon C410 packs 2.4 inch screen which is slightly better than typical 1.8 inch we have been seeing. Not only calling is more comfortable here but even the messaging part is. Unless and until you have become accustomed to large screen model, Celkon model C410 screen is adequate for small and medium length message. Since such feature phones do not support Whatsapp, there is not much to complain about also.
Other prominent specifications of Celkon new C410 are FM player with wireless set up, expandable memory up to 16GB and 1.3MP camera. These are all quite basic and not much can be explored on them. On some special event on online stores, Celkon C410 price in India may get even better than current level.
Celkon C410 Features list in India
2.4 inch screen
1.3MP camera
16GB expandable memory
Alpha numeric keypad
1,000 Lithium battery
200 SMS, 200 call list storage
Dual SIM: GSM+GSM
Multi language support
Wireless FM player