Celkon Thunder Price in India
Some of my old friends stay in far away areas in India where mobile revolution is yet to pick up. Even now 2G is there most preferred network due to lack to quality 4G services and also they do not find reason to pay high for smartphone. I think it will be reasonable for them to have a look at Celkon Thunder which has been silently listed on the official site of Celkon. All the features of this model are for 2G network mainly which also holds true for non network services like photography.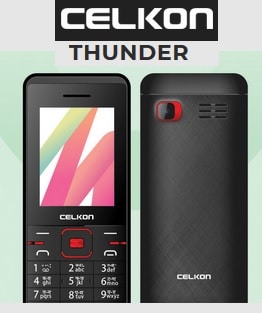 When we start writing about models like Celkon Thunder, first thing we have to check if these models have been actually in the market or not. This is so as very select portals report on them and we have to finally verify everything from their official Twitter account or official portals. There is not much scope in deviation on features quality from different sources as they mostly carry basic levels only.
Coming to specifications of Celkon Thunder mobile, it has 2.4 inch screen with simple old fashioned alpha numeric keypad. Though one would get 16GB of expandable memory, the inbuilt memory is quite limited only. The model has auto call recording option for short conversation which soon shall be saved to microSD card to ensure free memory space.
With 1.3MP camera, Celkon Thunder users can take small and medium quality images with limited color combination. If you are fan of FM, you can listen to your favorite tracks for longer period as it has power saver mode also. With dual SIM option though there, now may users find this appealing on 2G network.
Available in black color, Celkon phone Thunder looks slight appealing to carry on. Like typical value for money phone, it has low weight and sleek design. Though there is no official mention, Celkon Thunder price in India can be well expected to be below Rs. 1000.