Elephone A6 Mini Price in India
Big is better is not always the case and it can be seen in the way trend in smartphone market is going. On one hand there is good demand for big screen models but there is also growth in users who need smaller versions. Slowly people are moving towards smaller models also but without compromising on the quality of features.
To meet this dual nature of demand, smartphone companies are coming with smaller screen but with better screen to body ratio especially with recent water drop notch. Elephone A6 Mini is one such model launched in Hong Kong and same can be viewed on the official site also (also read Elephone U).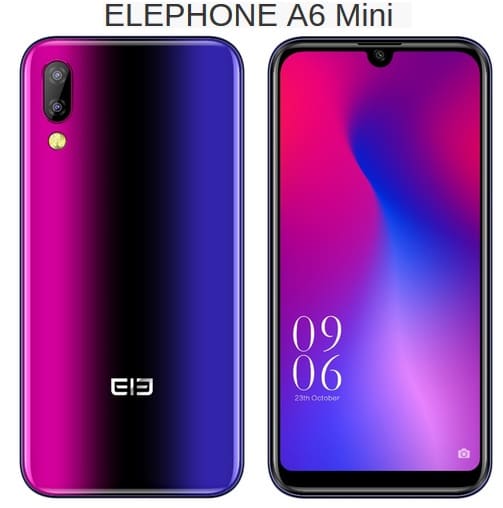 One shall not get mistaken by the name Mini in smartphone Elephone A6 Mini with respect to quality of features. There is 4GB RAM and 32GB of storage which not something one can find in a typical budget price models. Except models meant for premium class, this model can be compared well against those who claim to be on the top of the table. With Android 9.0 Pie slated to be the OS in this, performance wise also in different apps, you will not feel being in outdated mode any time.
Same holds true for camera quality also in Elephone A6 Mini which shall go in a much positive way. It has 16MP+2MP combination at the rear end for photography where in even distant images will get captured in crystal clear clarity due to bokeh effect from 2MP camera (check out Elephone U Pro). The 15MP front end camera is also by no means any lower when it comes to vibrancy of selfies shot from different angles and distance.
With the support of water drop notch, Elephone A6 Mini despite having 5.7 inch screen gives much better screen to body ratio as compared to usual models with even those which have top notch. The video of Elephone A6 Mini shared has green color model but on official site has listing of black color also.
Its not available in India right now but shall appear soon as Elephone quite active here. Expected Elephone A6 Mini price in India could well around Rs. 10,000 only which is quite reasonable also.