Energizer Power Max P18K Pop Price in India
So far we had seen power banks which can recharge phone on the go but now there is next step to it i.e. a phone can also be used to recharge other phone thanks to very powerful battery it has. Obviously in such model phone, battery life for application will go much beyond than what we see in other models.
We are talking about Energizer Power Max P18K Pop which can be used both as smartphone and power bank set for launch in June 2019.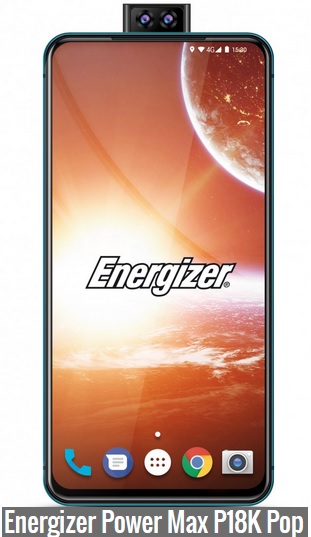 As the name Energizer Power Max P18K Pop says, P18K means it has 18000 mAh battery as compared to even Apple could offer up to 16k mAh only so far. It would not be too much to say a normal users would need to recharge this phone once a week. There is no other model which offers video play back non stop for 2 days which is simply out of league. The earlier models of this series were strong but this has gone much further. Stronger battery has added to slightly higher thickness which is 10.3 mm here.
There is one more feature in Energizer Power Max P18K Pop which is quite high end. Normally we see top notch and next to them is water drop notch models but this model has notch free design which a highest screen to body ratio in a 6.2 inch screen. One would wonder than about the location of selfies camera, well it comes as a pop pup with 16MP+2MP combination. On the rear end side, it has triple camera i.e. 12+5+2MP combination making the model as having 5 camera. Whatever may be location, angle, color variation be assured of quality output in images and videos here.
In the processing part also, Energizer Power Max P18K Pop is quite an premium model with 6GB RAM and 128GB ROM. Only thing one would miss not now but in future would be lack of 5G support. Else this model shall remain competitive for a long time. It is expected to be shown in MWC 2019 and may also get rolled out in India.
We will update on Energizer Power Max P18K Pop price in India information and other details soon.