Though most of the smartphone in India are Android based and many other OS have not been successful much. But now with Windows OS gaining popularity, in India also users will find smartphone based on this OS. iBall is coming up with iBall Andi 4L Pulse which has Windows 8.1 OS and many users will be interested to gain first hand experience.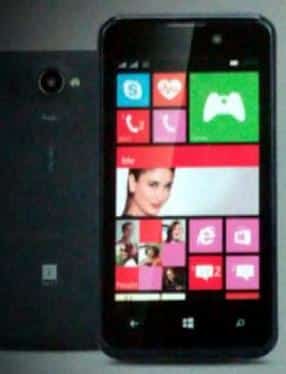 iBall Andi 4L Pulse Price in India
Now Indian users will also be able to enjoy the qualities of Windows based smartphones in variety of models and now iBall is all set to launch iBall Andi 4L Pulse in India based on same OS. iBall Andi 4L Pulse price in India is Rs. 4,899 which will make it good competitor for smartphone in less than Rs. 5000 price range in India. Though it is yet to be officially announced, it has been revealed by a retailer on Twitter along with promotional images of its brand ambassador Kareena Kapoor. The smartphone stands quite good on feature list also as it has 5MP rear end camera, Bluetooth v3.0 and 3G in connectivity and availability in multi color models.
iBall Andi 4L Pulse has 4 inch screen with 480×800 pixels resolution which is quite appropriate for different kind of applications but has TFT display which may not be liked much by the end users. It has 4GB of ROM which is quite enough for a normal users if they wish to store only images and songs of short duration. iBall Andi 4L Pulse also comes with 32GB of expandable memory and users can enjoy it without much compromising on performance. It has 1GB RAM which is simply better than may other smartphone available in similar price range.
With Windows 8.1 OS, iBall Andi 4L Pulse users will get a truly new experience but you shall also check for your favorite apps if they are available on this OS. The smartphone has 1.2GHz Quad core processor which is another advantage which makes it better than others. In this way, iBall Andi 4L Pulse in India is more suitable for users who want to enjoy better processing in low price smartphone. Designed in bar form, it is available in black color model. iBall Andi 4L Pulse has 1500 mAh battery and users can expect talk time support of 4-6 hrs at least. iBall Andi 4L Pulse price in India even at the current level is quite affordable.
iBall Andi 4L Pulse Features, Specifications list
screen: 4 inch, 480×800 pixels resolution, TFT display
1GB RAM, 1.2GHz quad core processor
1500 mAh battery
Black color
Bar form
4GB of internal memory
32GB expandable memory
SAR value: NA
Bluetooth v3.0, Wi-Fi, 3G