Its always comes as a great deal of risk when two products with minimal difference in features are launched. There are chances consumers who may not find one suitable will opt for another one. But at the same time, it is also highly likely the superior product may simply bring tag of inferior quality to other.
This seems more coming from iBall tablet PCs i.e. iBall Slide Enzo V8 when there is already iBall Slide 4GE Mania launched just few days earlier.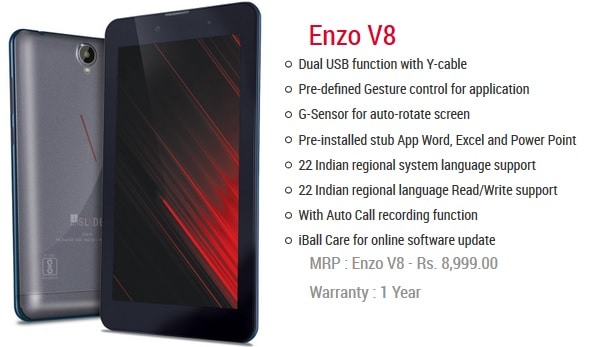 There is not much price difference between these two products as iBall Slide Enzo V8 price in India is Rs. 7,999 at online stores with Mania model at just Rs. 1,000 level lower. However this difference brings upgraded OS i.e. Android 7.0 Nougat over Marshmallow, 2GB RAM over 1GB RAM and also 16GB storage space over 8GB which is quite remarkable and will not go unnoticed to end users.
In the rest of the features quality, iBall Slide Enzo V8 and Mania also at equal level which may not be a surprise also they are low end category product essentially. Users of iBall Slide tablet PC Enzo V8 will find dual USB function with Y cable which will allow them to undertake charging, data card usage at same time. This will lead to slightly better utilization capacity of this model.
iBall Slide model Enzo V8 comes with support for 22 regional languages both in terms of read/write support as well as system support. For students and professionals, it comes with pre installed Word , Excel and Power Point which are most used MS office tools. Since it has 3,500 mAh battery with very long working hours support, these category of people shall find it appealing.
Other important specifications of iBall Slide new Enzo V8 are 5MP main, 2MP front camera both with LED flash, 4G support, Bluetooth 4.0 and A-GPS for navigation.
Again we highly expect over a period of time, iBall Slide Enzo V8 price in India will get better from Rs. 7,999 level also.