Lat time I bought smartphone 2 years back and I struggled to find model which will meet my day to day requirement in modest way as well as available in reasonable price range. The price variation was high among the models and I had to think twice when I finally went for a 4 inch model.
That was past literally and now owing to high competition, I can see plenty of offers in low price but with very impressive features list and that starts with screen size itself. Intex Aqua S1 is one model that strengthened my point and would do the same for many more.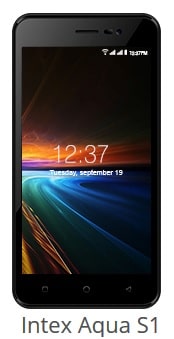 Believe it or not, Intex Aqua S1 price in India is just Rs. 3,999 which is just Rs. 500 more than Intex Cloud C1 price but users will get 5 inch screen in place of 4 inch. This is huge improvement on paying such a very small amount. Though the quality of display is FWVGA, it certainly will not be disappointing unless your are watching purely HD movies. Since I like to watch old songs which are there in old formats, I will not be able to see the negative side of using FWVGA screen.
In 4G network, speed is key and Intex Aqua S1 in India brings 1GB RAM with 1.25GHz Quad core processor to ensure seamless streaming and also playing of movies and games. One important aspect in a smartphone is design which gets better with price usually but here in the low price range itself, Intex Aqua S1 has painted cover finish and available in black, champagne colors. I usually do not wish to carry a model which looks huge in appearance and at the same I need strong battery both of which are present in this model.
If there is no latest Android OS, certainly its not worth looking at it especially when we look forward to enjoy latest version of different apps. Smartphone Intex Aqua S1 has Nougat in its kitty but one may not get scope on this to upgrade to Oreo in coming time. This is not a big setback as we do not expect such kind of updates in low price models like Intex Aqua S1.
There is 8GB ROM, 2300 mAh battery with dual network support i.e. 3G and 4G in store for potential users of Intex Aqua S1 smartphone.