Now there is growing demand for 4G services as they offers better quality and comes at very low price which has been key to their sudden spurt in the demand. Most of the users who can afford would like to go for 4G smartphone which is quite logical also.
But it is not necessary that every one is going to play game or watch movies and hence not a favorite of larger screen models. Hence there is scope for mid level screen size models like Intex Cloud C1 which will also serve dual purpose.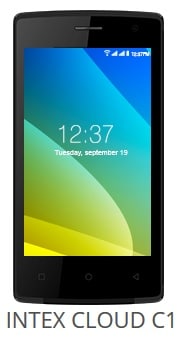 The just launched smartphone Intex Cloud C1 has 4 inch WVGA screen with 480×800 pixels resolution which may not be so appealing to some. But not to forget, on the 3G network it was quite favorite especially when 5 inch models were either not there or were slightly on the expensive side. Also it made sense to work on 4 inch screen on 3G network as it will consume less data in streaming games and movies and 3G network was quite expensive as compared to 4G.
But the context now is quite changed and Intex Cloud C1 in India will appeal to those who find it slightly inconvenient to carry 5 inch models especially when they fear damage or being stolen. Also 5 inch models are more appealing to those who want to go for 1GB free data per day type of offers or other similar offers. Also since there is limited time period for which offers are there, there will be some users who will put longer perspective and hence may see rise in data cost and hence would like to go for 4 inch models only.
Even though price of Intex Cloud C1 is quite on the lower front, there is quite impressive quality of features one would get to work with. It has 1GB RAM, 1.3GHz Quad core processor, support for 2G, 3G, 4G services, 1,750 mAh battery with 4-6 hours talk time, 5MP main and 2MP front end camera. It is more on slim side in terms of design and has very stylish look and hence you can carry it as a style statement.