This can be simply attributed to tough competition only that Intex is offering net connectivity in Intex Nano 104 phone though it has been set at price of just Rs. 915 only. Apart from low price, Intex Nano 104 has dual SIM, FM radio and strong battery to ensure users can work for long hours on this mobile.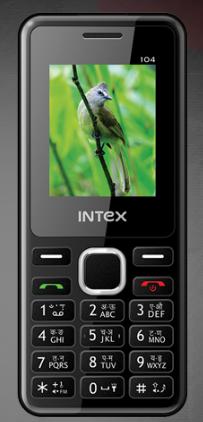 Intex Nano 104 Price in India
For Indian users who need feature phone in less than Rs. 1,000 price range and which has internet connectivity, than Intex Nano 104 is simply going to be the cheapest and latest option. Intex Nano 104 price in India at the official site of the model is Rs. 915 and users may get it even at lower price once it is listed on shopping portals. Intex Nano 104 price in this range simply shows the model is mainly meant for first time users in the market. Some of the important features of Intex Nano 104 are 1.8 inch screen, black color model, very good 1000 mAh battery and many others.
Intex Nano 104 phone has 1.8 inch screen with TFT screen type and 128×160 pixels resolution and hence users shall not expect more than calling and messaging on this model. It has 128RGB color display on the screen and users need to get more information on this aspect as this is on lower side as compared to models in the similar price range. Intex Nano 104 is quite impressive in connectivity side as it has GPRS/WAP for users who wish to enjoy net. Also it has Bluetooth with A2DP support for sharing contacts, images and other files of light size mainly.
The model Intex Nano 104 in India is quite impressive on the memory front also as it will allow storage up to 200 messages which is simply double of what we normally see. Also users can store up to 500 contacts and also has expandable memory of 32GB with the support of microSD card. Intex Nano 104 also comes with dual SIM option on GSM network which along with better memory option will offer much exciting option to users. Intex Nano 104 mobile has 1,000 mAh battery which offers talk time support of 7 hours which is much more than what any one will bargain for in this price range.
Intex Nano 104 has plenty options for entertainment also though users have to be content with limited satisfaction. It has FM radio without recording option, audio jack of 3.5mm and audio/video player for users who like music. Also it has basic games pre installed which users can enjoy in their free time. Overall Intex Nano 104 price in India is quite appealing especially for its connectivity and storage power.
Intex Nano 104 Features list
1.8 inch screen, 128×160 pixels resolution
FM radio with out song recording
dual SIM: GSM+GSM
Network: 2G only
Contacts: 500, Messages: 200
Black color, bar form
1000 mAh battery with 7 hours talk time
Auto call recording option