Sometime we feel the time for 2G and even 3G models is completely over but when we look at the customer base, it is not so. There are millions of users who are still on 3G and many are on even 2G without any near future plans to move to 4G.
This is the market segment for which Karbonn Alfa A18 appeal the most more so for its simplicity in features quality and low range in price of less than Rs. 2,500.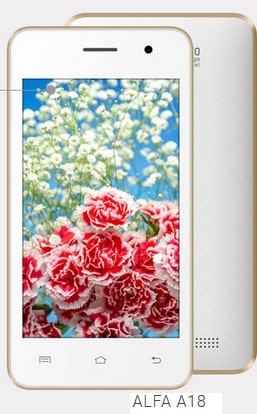 As on today, Karbonn Alfa A18 price in India for online buying from Amazon India is Rs. 2,499 which any one would find much below their paying capacity. Also one has to keep in mind the features quality except for few is much in line with what we used to saw 1 year back around. Even if you are found of latest app on single factor, this model may simply be not meant for you.
The appealing side of Karbonn Alfa A18 is 4 inch WVGA screen which is quite impressive and having multiple color model simply adds to that. You may have forgotten the front VGA camera but Karbonn model Alfa A18 is back with that along with 2MP rear end camera. Most would agree there is hardly any scope given today's standard for video chat or video recording here. With the given memory slot of 4GB, there will be just 2GB space for storage which is not not simply enough for latest apps or files.
At most one can say Karbonn smartphone Alfa A18 is adequate powered on processing side but up to medium level apps as it has 1.2GHz dual core processor and 512MB RAM. Since it has only Android 6.0 Marshmallow OS, test your apps if there version you have in hand will find it compatible. Connectivity wise the Karbonn A18 smartphone has A-GPS, Wi-Fi hotspot, 2G/3G but you need to forget about 4G LTE on this model.
Certainly if features are adequate to meet your requirement, Karbonn Alfa A18 price in India is certainly a go.