The phone Lava KKT 24S is quite suitable for users who need to access net but only on GPRS/EDGE. It also comes with 1.3MP primary camera, 3-4 different color models and appealing design. Lava KKT 24S price in India is only Rs. 1850 which may come down once it is listed on more shopping portals.
The new KKT series phone Lava KKT 24S is meant for price sensitive users in India who also want to surf net on their mobile. Lava KKT 24S price in India which is also mentioned on the official site of the model is Rs. 1850 (best price). The feature phone is also listed on select online shopping portals at similar price level. Lava KKT 24S price is higher by Rs. 600 from other models from the company with similar screen size and other features but it has some additional as well as improved features also e.g. net access, flash on camera and multi lingual support. Lava KKT 24S is also also available in multiple color models i.e. Grey+Black, Black+Silver, Black+Champagne.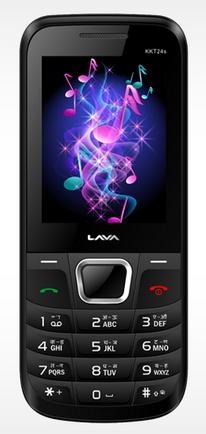 Lava KKT 24S comes with 1.3MP camera as compared to VGA camera which is typically seen in low price smartphone in India. Also the camera has flash support to ensure good quality images in low light condition but does not have zoom option. Lava KKT 24S feature phone has Bluetooth, USB, microSD card in connectivity along with GPRS and EDGE for internet access on pre installed browser. In this way this phone is truly feature rich phone in value for money segment in India.
Lava KKT 24S price difference is also justified with other features available in this phone. The phone comes with support for English, Hindi, Tamil and Telugu language support. Apart from listening to songs on FM radio and watching movie clips using music player, it has also pre installed games i.e. Lock D block/ Hungree Bird/ Khidki/ Lava Zone. Lava KKT 24S also has mobile tracker which is quite helpful if you are in habit of forgetting your smartphone.
Lava KKT 24S Features
| | |
| --- | --- |
| Camera Features | Connectivity Features |
| | |
| Camera quality: flash, 3GP Video recording | |
| | |
| | |
| Secondary camera resolution: NA | |
| Entertainment Features | |
| | |
| Games: Lock D block/ Hungree Bird/ Khidki/ Lava Zone | |
| Audio player, video player | Sensors |
| | |
Lava KKT 24S Specifications
| | |
| --- | --- |
| OS | Battery specifications |
| | |
| SIM | Battery capacity: 1800 mAh |
| | |
| | |
| Screen Specifications | |
| | Weight: NA |
| Screen resolution: 240X320 pixels | Dimensions: 116X46X15 mm |
| | SAR value: NA |
| | Form: bar |
| | Color: white |
| Memory Specifications | Language support: English, Hindi, Tamil, Telugu |
| | |
| | |
| | |
| | |
| | |