Lava T71 Price in India
Its just a old tradition that people do not wish to change their status even if it means paying relatively more to do the same. Its very much true with 2G and 3G users and applies well for phone as well as tablets. The cost of running these devices on voice as well as data services is much more as compared to 4G ones. Hence its no surprise we would see response for new models like Lava T71 in India though it may not be so exciting. Very few portals have noticed the launch of Lava T71 which is quite obvious also.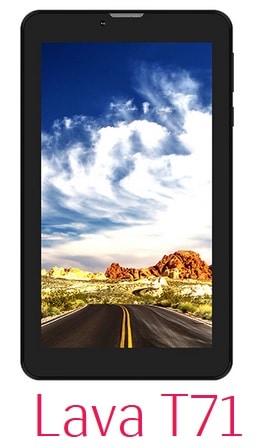 On the official page, Lava T71 price in India has been set at Rs. 7,999 which is quite reasonable for a 7 inch tab but never forget its constraint of being meant for 3G network only. What you would save on price more than that one would end up paying for data services. However if you are not going to surf net much or related activity, it may sound worth to you also.
What Lava tablet T71 features makes it better over previous models is latest OS version. Not even many smartphone models have Android 8.1 Oreo but this tablet has which will certainly get reflected in the performance side as well. The 3G tablet has camera for video recording but we are not foreseeing it to be of very high caliber.
There is just 1GB ROM and 8GB RAM which are quite basic in terms of what usability one can think of here. Apps which require high processing power may not fit into catalogue of this tab. There is 1.3GHz Quadcore processor on the side but here also its more in level with other processing capacity of this gadget.
Upcoming tablet in India, Lava T71 comes with 3,500 mAh battery and Bluetooth v4.0 for better file sharing. Here also it will be more smooth on light to medium short of files mainly.
Though there is not much demand for such tabs but we would continue to see more and more of them with slight upgrades. It will not take long before Lava T71 price in India comes with good discount.