Lava Z71 Price in India
It has come to the point where even 4G models from Indian brands are not getting enough media space even among online portals. Its not a surprise as Indian smartphone brands are finding it hard to compete with global brands and mainly Chinese. Some of the old players like Micromax and Karbonn have faced very tough heat but some like Lava are keeping it alive some how. Lava Z71 is new model for 2020 the company has come out with at price of Rs. 6,299 in India.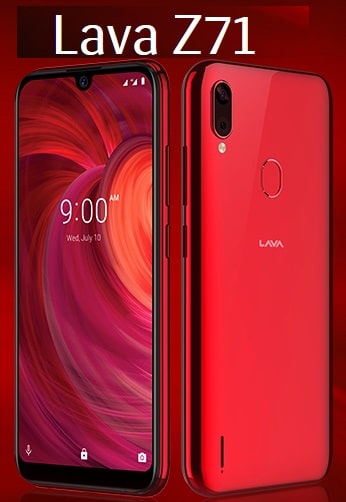 At the time of launch official price of Lava Z71 was Rs. 6,699 but now one can buy this model at discount of Rs. 400. In the coming days one can look forward for more discount also but the appeal of the model will also be at a hit. Among its own models, Lava Z71 price makes it one of the most value for money Lava smartphone in 4G category.
Lava Z71 Features list
5.77 inch top notch screen
2GB RAM
32GB ROM
3,200 mAh battery
Stand by time 485 hours
Android 9.0 Pie OS
13MP+2MP Rear end camera
5MP with LED flash camera on front
Dual SIM (4G+4G)
Dimensions: 145.6 mm X 70.9 mm X 9.0 mm
2.0 GHz Quad core processor
User interface: Star OS 5.1
There is not much one can boast about features list in Lava Z71 model if you compare it with its peers. The competition is so high from Chinese players one can get exceptional features in very low price range. The trend is going to continue for quite some time with players getting more and more aggressive.
What one would get in the features in Lava Z71 include 5.77 inch screen with dot top notch. If you look at its OS, its Android 9.0 and just 2GB RAM. Having 32GB internal memory is a bit relief and 3,200 mAh battery with 50 hours talk time is also quite good. One main drawback of Lava Z71 is lack of AI on any of its features which could have enhanced its performance.
Lets hope users find Lava Z71 price in India at Rs. 6,299 appealing.
Source: Lava Official site