Lemon Blaze 504 Price in India
One thing smartphone from Indian brands that is exclusive to them is feel of being from Indians and it also gets reflected in few features. Usually support for quite a large no. Indian local languages is something global brands especially for models in low price range does not focus much. Also in such low price range category, not too high competition is offered by players like Nokia, Samsung etc. This is one perspective Lemon Blaze 504 may find some takers in Indian market.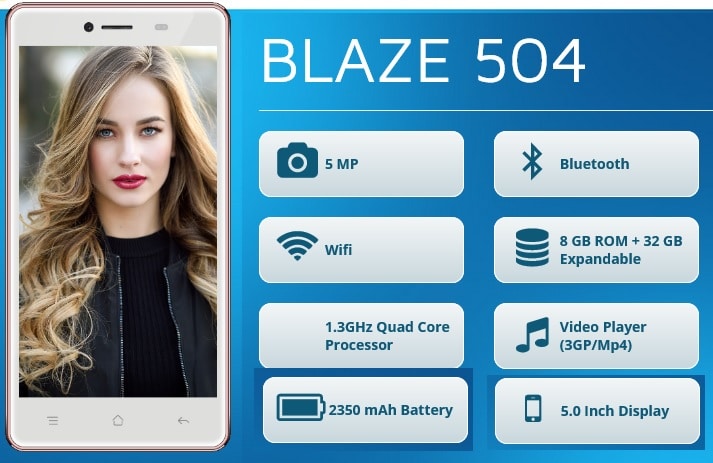 Its reported Lemon Blaze 504 price in India at the time of launch was around Rs. 4,300 but now one can get it for Rs. 3,699 with online buying option. This is 5 inch model and looks quite good for users who are not too fancy about their model but having a reasonable one is enough for them. If you have more cash in your pocket, better look for higher end models but if not than its worth trying these models too (compare with Lemon Anmol 211).
The new smartphone Lemon Blaze 504 poses 5 inch HD IPS display quality screen with just 720×1080 pixels resolution. If you have very very big picture or want to zoom out too much, than it may not be able to retain the quality. With 5MP rear end and 2MP front end shooter, one can say its better than basic feature models smartphone in Indian market. Certainly the quality will not give wow factor in either image or video output.
One major drawback one would encounter is very outdated OS i.e Android 6.0 Marshmallow which many may have written off from the memory. Having 2,350 mAh battery with 10 hours talk time is quite good and similar performance may be expected in net surfing and playing games. With 1GB RAM and 8GB ROM, again its more in line with budget smartphone in India.
The final Lemon Blaze 504 price in India may come do gown again in coming days at online stores.
Lemon Blaze 504 Features list
5 inch screen with HD IPS display
5MP+2MP camera combination
2,350 mAh battery
Android 6.0 Marshmallow
1GB RAM
8GB ROM
1.3GHzQuad core processor
32GB Expandable memory