Its not always the latest is best especially when the needs are quite basic and same applies to mobile as well. The market is so large in India that even now plenty of users are happy with their 2G services though its becoming nightmare for mobile operators.
Every now and then we get to see models for these 2G users and Lemon Lemo 120 is one of them. Since the trend has moved to 4G, there is very little attention these kind of mobile get into the market.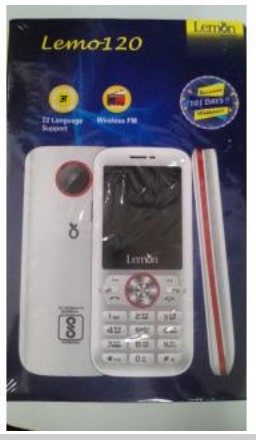 Its no more the time when you will find mobile less than Rs. 1000 appealing being it your first model. But still price is key factor in buying decision and at ShopClues, for online buying Lemon Lemo 120 price in India is only Rs. 899 which is simply 18% lower than its price few weeks back (good discount here). Not many models we have seen from this brand in 4G platform and hence not many are in touch with what new is coming from their stable.
Its quite easy to guess, Lemon Lemo 120 has ver rel="nofollow"y basic features and hence it will just meet your mobile needs. its not a true product in today's standard that you can boast of. The new Lemon mobile Lemo 120 has 1.8 inch screen and alpha numeric keypad which is meant for small text messages and simply navigation. Since screen is quite small, the fun of entertainment is simply not going to be on this model. At best you can enjoy FM radio if you are kind of comfortable with average quality speakers.
Though Lemon Lemo 120 has dual SIM feature but since its just 2G handset, it will not be of much use to many of interested buyers. Its been said the 1,000 mAh battery the mobile carries is quite strong but all you need to test on your individual needs. Its white color model with smart design and very low weight. Not many options are there for net access on Lemon phone Lemo 120 apart from GPRS and EDGE.
Though Lemon Lemo 120 price in India is low not sure if there are much demand left for such models.