Lemon Lemo 205 Price in India
Some of us are getting back to old days where simplicity used to be the key and one reason for that is getting tired with never ending slew of features which we do not need. Its also the reason many consumers in 2G segment are not ready to switch despite having fabulous offers.
Though there are not many phones hitting the market but model like Lemon Lemo 205 being quality phone will surely add to their options. Though there is no mention as yet, Lemon Lemo 205 price in India is going to be around Rs. 1,000 only.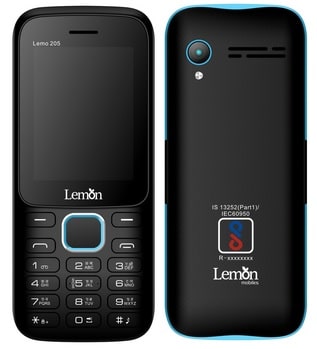 There is not much to talk about Lemon Lemo 205 features primarily because most are aware of by now what comes in the low price feature phone in India. This model has 2.4 inch QVGA screen with 320×240 pixels display. Such screen size and quality formats are meant for calling and texting and if you go for taking images than restrict yourself to small size and good light situation (compare with Lemon Lemo 120).
The upcoming mobile Lemon Lemo 205 has digital camera which is obviously more for the sake of providing to the slot then to offer any high quality photography experience. Though we are personally not so much inclined to such models, as a second phone, this is worth giving a consideration.
Though Lemon Lemo 205 comes with GPRS and EDGE for net connectivity, given the very slow speed on 2G network and costly data charges, there is not much one can explore here. FM radio is one feature in Lemon mobile Lemo 205 which find quite regular on these models.
We will update as soon as best Lemon Lemo 205 price in India is available in 2018.
Lemon Lemo 205 Features list detailed
2.4 inch screen, QVGA, 320X240 pixels
Dual SIM: GSM+GSM
Digital camera
1,800 mAh battery
10 hrs talk time, 10 days stand by time
16GB Expandable memory
100 contacts, 100 messages
Wireless FM radio
Auto call recording
Embedded games