Micromax X371 Price in India
Though 2G is causing lot of financial strain on the books of companies as they are no more profitable as they used to be once. However that is off least concern to many 2G users who are not interested to switch their network to 3G or 4G despite getting lot of amazing offers also.
Since this segment is going to stay for quite long time, Indian companies like Micromax comes with 2G models every now and than. Micromax X371 is meant for these users who need just basic model without much bothering about any other characteristics (also read Micromax Bolt Q3001).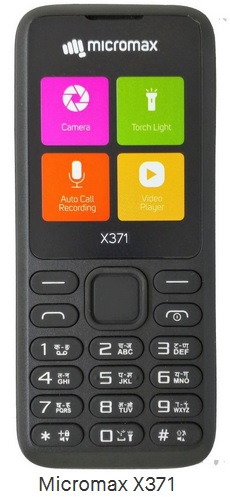 Since there is not much fan fare left in the segment, mobiles like Micromax X371 despite being available at very low price does not create any buzz in the market. Micromax X371 price in India is Rs. 950 and very limited stock is available on online stores. In fact when we surf around net, there are very portals which have run reviews of Micromax X371 and that also with very limited depth.
There is not much from models like Micromax X371 in features quality as it has just 2.8 inch screen with 320×240 pixels resolution and QVGA quality. To get feel of this one has to go back to 1 year period when these quality screen was quite a norm. Micromax model X371 also poses a digital camera but given very low quality and low storage space, this would be more appropriate for the sake of having and not for usage.
Battery in Micromax mobile X371 is something quite appealing as with 8,00 mAh capacity, one would get to enjoy talk time up to 7 hours but be careful its only on 2G network. With 512MB internal memory, at least 200 messages and contacts can be stored in this model.
There is less chances that one may get better deal on Micromax X371 price in India from its current level.
Micromax X371 Features list in India
2.8 inch screen, QVGA quality, 320×240 pixel
Black color
800 mAh battery, up to 7 hours talk time
2G network only
GPRS/EDGE but no Wi-Fi
Bar form
Available online
Alpha numeric keypad
Torch light
512MB internal memory
16GB expandable memory