Micromax X381 Price in India 2020
In this time when there is very restrictive movement in India, having a feature phone which has power saving mechanism is quite useful especially in areas where power cuts are normal.
Micromax X381 is one such model which not only saves power in eco-friendly mode but also have other interesting applications also on 2G network. Currently Micromax X381 price in India is also just Rs. 899 though you may find it out of stock from Amazon (compare with Micromax X371).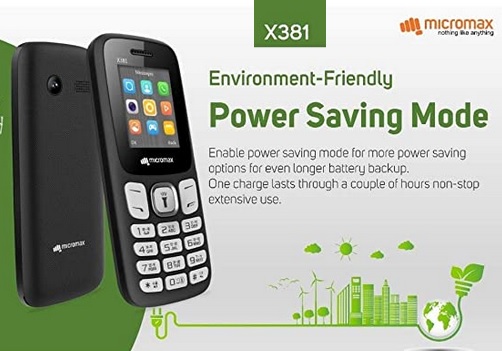 There is very select feature phone with Bluetooth calling and Micromax X381 is just one of them. The model has 1.77 inch screen which is slightly bigger than what we normally see in models in its price range. To ensure one can go using extensively, the phone has 8,00 mAh battery with power saving mode.
Micromax model X381 comes with normal 32MB RAM and 32MB ROM to give just enough space for storing basic images, contacts etc. Normally in such models one can store up to 200 contacts and 100 messages. Though the expandable memory is up 32GB, its not wise to go to that level due to performance constraints (also read Micromax X421).
To give quality entertainment, Micromax phone X381 comes with wireless FM radio with quality speakers. Also it has function for auto call recording for your important calls. With anti theft feature, you can easily locate your find if some one has stolen your device. Though the Micromax X381 price at Rs. 899 is quite appealing delivery in current times is going to be main issue.
Micromax X381 Features list
1.77 inch screen
240×320 pixel resolution
Bluetooth calling
2G Dual SIM
Auto call recording
Anti theft
800 mAh battery
32MB RAM
32MB ROM
Wireless FM radio
Black color
99.8 grams weight
Digital camera at back end