The entry level smartphone MTS Blaze 4.5 comes with good quality features which will meet the requirement of its users in India. MTS Blaze 4.5 has Bluetooth for sharing files, EDGE/GPRS for accessing net and multiple sensors to enhance the user experience. Despite all these features, MTS Blaze 4.5 price in India is quite low only.
MTS Blaze 4.5 Features
Newly launched smartphone MTS Blaze 4.5 is quite good in features and will truly justify its price in the market also. MTS Blaze 4.5 price has been set at Rs. 9,999 which seems quite reasonable for average Indian consumer. The smartphone has good quality features for camera, connectivity and entertainment which are usually the main focus of users. However MTS Blaze 4.5 does not have top end unique proposition on any of these features.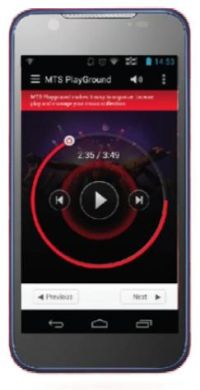 MTS Blaze 4.5 Features list
Primary camera: 5MP

Camera quality: auto focus, flash
Secondary camera: 0.3MP
Video recording

Entertainment Features

Audio player
Video player
FM radio
Google play store

Connectivity Features

Wi-Fi
Bluetooth
USB 2.0
EDGE
GPRS

Sensors

Proximity, Gravity, Light
MTS Blaze 4.5 features for photography is good for rear end camera but not for front end. Though it comes with dual camera but it has only 0.3MP camera at front end and hence there will be hardly any users for its usage on video chatting. The smartphone has 5MP primary camera which will give satisfactory quality images and video recording. Since it has just average battery, MTS Blaze 4.5 users can record videos for 3-4 hours only in a single recharge.
MTS Blaze 4.5 features for connectivity is at par with any other smartphone in the market in this price range. It has Wi-Fi for net access for users who will have access to Wi-Fi network and others can always turn on EDGE/GPRS and surf internet at reasonable speed. For sharing files with compatible devices, it has been powered with Bluetooth 3.0 with the support of A2DP which is again quite satisfactory.
MTS Blaze 4.5 features for entertainment will meet the user expectations as it comes with FM radio which users can set as per their choice. Also it has audio and video player to play the stored files. Since MTS Blaze 4.5 is built on Android platform, users will also get access to Android market and install app of their choice to enhance the usability of this smartphone.