Meant for mid level users, MTS Blaze 4.5 price in India during the launch time is only Rs. 9,999. Once it is listed on shopping portals, MTS Blaze 4.5 price in India may come down to Rs. 9k level also. The smartphone has dual SIM, 5MP camera with flash and average quality battery in its portfolio.
Powered with 4.5 inch screen and 1.2GHz Quad core processor, MTS Blaze 4.5 price in India for buying from online shopping portals is Rs. 9,999 (best price / online price) only. MTS Blaze 4.5 price in India in coming period may come even at lower level once it is listed on more and more shopping portals. MTS Blaze 4.5 features include 5MP rear end camera, VGA camera at front end, FM radio for entertainment and Bluetooth, Wi-Fi for connectivity. MTS Blaze 4.5 specifications include 1GB memory for mass storage, 1GB RAM and little older version Android 4.1.2 Jelly Bean OS.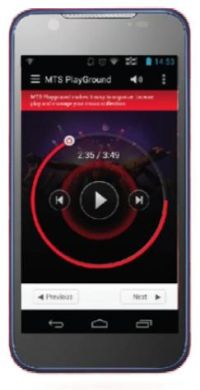 MTS Blaze 4.5 Features
MTS Blaze 4.5 price is going to be suitable for entry to mid level users in Indian market and its features stands truly for that. The smartphone has 5MP primary camera with flash and auto focus support to ensure good quality images even in moving condition. MTS Blaze 4.5 comes with Bluetooth for file sharing and Wi-Fi for net access but does not have WLAN support. For entertainment, it has been provided with FM radio with song recording, Google play store and free access to Android market.
Camera Features

Primary camera: 5MP
Camera resolution: NA
Camera quality: Flash, auto focus
Video recording
Secondary camera: 0.3MP

Entertainment Features

FM radio with song recording
Audio player
Video player
Audio jack: 3.5mm
Games
Google play store

Connectivity Features

Bluetooth with A2DP Bluetooth
Wi-Fi
Wi-Fi hotspot: NA
2G Network
3G network
WLAN: NA
USB 2.0
EVDO Rev A
GPRS
EDGE

Browser
Navigation
Sensors

G sensor
Proximity sensor
Light sensor

Free apps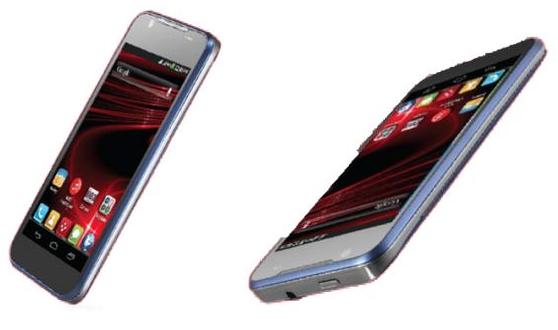 MTS Blaze 4.5 Specifications
MTS Blaze 4.5 specifications are average for screen and memory and less than satisfactory for battery. It has been powered with 4.5 inch screen with full touch quality though users can get even 5 inch smartphone in this price range. MTS Blaze 4.5 comes with 1.88GB space for installing apps and 1GB for mass storage for images, files etc. The smartphone has 1,600 mAh Li-Ion battery which will give talk time support of just 4 hours which is something users shall note very carefully before buying this smartphone.
OS: Android 4.1.2 Jelly Bean
SIM: dual SIM (GSM+CDMA)
Network: 2G, 3G
Screen Specifications

Screen size: 4.5 inch
Screen resolution: 480×854 pixels
Screen quality: Full touch capacitive TFT
Screen colors: 262K
Aspect ratio: NA
PPI: NA
Display quality: NA

Memory Specifications

Internal memory: 1.88 GB (for Apps) and 1GB (Mass Storage)
ROM: 4GB
Processor: 1.2GHz Quad core
RAM: 1MB
Expandable memory: 32GB

Weight: NA
Color: black with light grey
Dimensions: NA
SAR value: NA
Battery specifications

Battery type: Li-Ion
Battery capacity: 1600 mAh
Talk time: 4 hours
Stand by time: 250 hours
Music playback time: NA
Video playback time: NA
MTS Blaze 4.5 Review
There are very limited MTS Blaze 4.5 users review as this smartphone has been launched in recent times only and hence we need to rely on the information available on very few portals. In the past also, MTS Blaze smartphone has been at best average only and same applied to this smartphone. One of the unique features of this smartphone is GSM+CDMA combination for dual SIM options which are give to the end users. These can be enjoyed on both 2G and also 3G network services. There are very smartphone in the market which have dual SIM on CDMA network and this smartphone comes as good news after a long time for CDMA network users.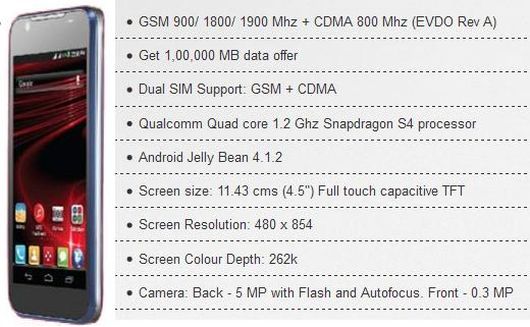 New MTS Blaze 4.5 is little satisfactory for primary camera as it has 5MP rear end camera which will give good quality images. Users must note that in the smartphone of Rs. 12-13K price range, they can also expect much better camera for photography. It comes with 0.3MP front end camera which is meant for video chatting which is widely needed by young consumers. But there will be hardly any users in mid price range category who would like to use 0.3MP camera as this the lowest quality camera and even entry level smartphone has this.
The smartphone MTS Blaze 4.5 price is in mid range category but is battery is not even comparable with entry level smartphone. The smartphone battery will give talk time support of only 4 hours and hence users will have to keep recharging every days. The mobile users who need to make long duration call may need to recharge more than once also in a day. In this way, this smartphone is going to be suitable for average users only.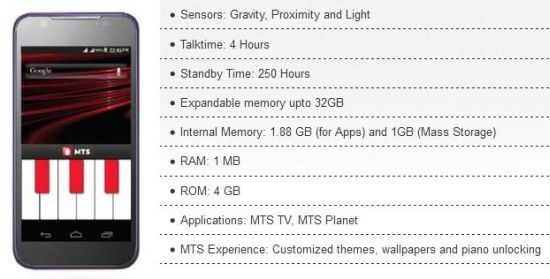 New MTS Blaze 4.5 smartphone will also lag behind its competitors in its features for memory also. The smartphone though comes with 4GB ROM but users will get only 1GB for mass storage and 1.88GB is reserved for mass storage. When you will explore other smartphone in similar price range, you will find most of the smartphone have at least 2GB space for storing files and documents.
In this way, this smartphone is not one of the best smartphone in terms of functionality in the mid price range. But if you look at 1,00,000 MB free data download offer, users will find it little appealing. Hence this smartphone is mainly meant for users who need better deals on data transfer and specifically from MTS brand.
MTS Blaze 4.5 price in India is not so much justified for its features but for free data plan that comes with it. Users will get 1 lak MB free data offer with this smartphone which makes its price much lower actually. The smartphone is yet to be listed on its official site and even there is no update for the same on its Twitter account.