Overall MTS Blaze 4.5 specifications are satisfactory and will meet expectations of the end users.
MTS Blaze 4.5 Specifications
In the past also, MTS Blaze 4.5 smartphone have been powered with average specifications only due to which they have seen limited success only in Indian market. MTS Blaze 4.5 also follows the same trend and users will find couple of smartphone in similar price range with much better specifications on various fronts. Some of the promising MTS Blaze 4.5 specifications are 4.5 inch screen of touch quality, Android 4.1.2 Jelly Bean OS and also weak battery of 1,600 mAh.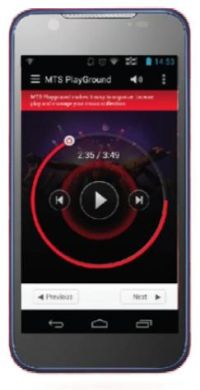 MTS Blaze 4.5 Specifications List
Screen size: 4.5 inch
Screen quality: full touch
OS: Android 4.1.2 Jelly Bean
RAM: 1GB
Processor: 1.2GHz quad core
Battery specifications

Battery type: Li-Ion, 1,600 mAh
Talk time support: 4 hours on 2G
Stand by support: 250 hours

Form: bar
Dimensions: 133 x 66 x 11 mm
MTS Blaze 4.5 full specifications when analyzed with other smartphone in market, turns out to be just satisfactory only and there is no x-factor in any of them. It has 4.5 inch screen with full touch quality whereas in market users can expect at least 5 inch screen smartphone with HD screen quality in this price range. Also many of the smartphone especially in latest series comes with multiple finger point support to enhance performance which is missing in this smartphone.
MTS Blaze 4.5 specification has 1600 mAh battery which is not even average in quality when it comes to its support for various application. It will support 4 hours of talk time on 2G and hence much lower on 3G network services which is not at all satisfactory. MTS Blaze 4.5 users may be able to surf on net for 3-4 hours only on Wi-Fi and hence professionals and young consumers who need to access net frequently for long duration will not find it much useful.
In processing, MTS Blaze 4.5 specifications are quite better and will attract user attention for sure. It has been powered with 1GB RAM and 1.2GHz quad core processor which will ensure smooth working even on heavy applications. MTS Blaze 4.5 users will be able to play games and stream videos of even long duration quite smoothly on this smartphone.