Oppo PDAM10 Price in India
In China and India, there is large market size for 4G users and its going to grow by leaps and bounds in future.
There is demand for high quality smartphones which could deliver better experience especially in absence of 5G network. To match this Oppo is coming out with new Oppo PDAM10 which has been listed on TENNA for launch in Chinese market. There is great deal of information revealed on this model but its moniker not yet clear though there are some indications.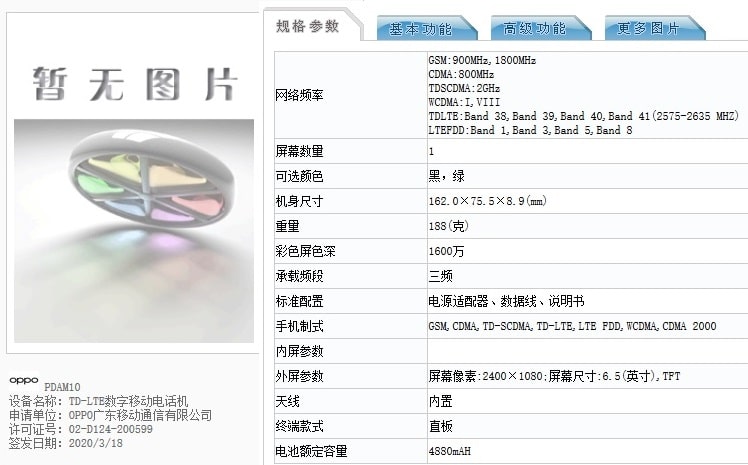 The upcoming Oppo PDAM10 2020 model in views of some people could be Oppo Reno Ace 2 which is next smartphone to be launched by the brand. However the better sense will prevail in coming days only when this model officially gets launched.

There is very good quality features list in Oppo PDAM10 smartphone which one can check from any angle. The smartphone has 6.5 inch screen with 20:9 aspect ratio giving relatively wider screen space for operations. With 8.9mm thickness, certainly this has better sleekness among many of its peers in the market.

On the camera side, Oppo PDAM10 has quad set up with 12MP+8MP+2MP+2MP set up which will ensure all the variations in photography gets good result. On the front end it has 8MP selfie shooter. There is no mention of AI support on the camera front. With 8GB RAM and 128GB ROM, this is going to be very appealing model for mid level usage. It carries Android 10 OS and 2GHz Octa core chip set.

Broadly it looks like a lower mid range segment model and hence Oppo PDAM10 price in India could be around Rs. 12,999.

Oppo PDAM10 2020 Features list
6.5 inch screen
20:9 aspect ratio
8GB RAM
128GB ROM
12MP+8MP+2MP+2MP rear end camera
8MP front end camera
Fast charging
Finger scanner
2GHz Octa core processor
Android 10 OS
Dimensions: 162.0 x 75.5 x 8.9 mm
188 grams weight
4,880 mAh battery
Source: Oppo PDAM10 on TENNA