Redmi K30 Pro Zoom Edition Price in India
It is quite interesting to know about a special edition smartphone as there would be just 1-2 features which makes it special which is not an easy task.
Usually we have seen quality of camera as differentiating factor between models but hat about sensor. Its true, Redmi K30 Pro Zoom Edition is going to be powered with 108MP sensor as compared with 64MP sensor in Redmi K30 Pro model. Not much shall change in the price of Redmi K30 Pro Zoom Edition due this special sensor feature.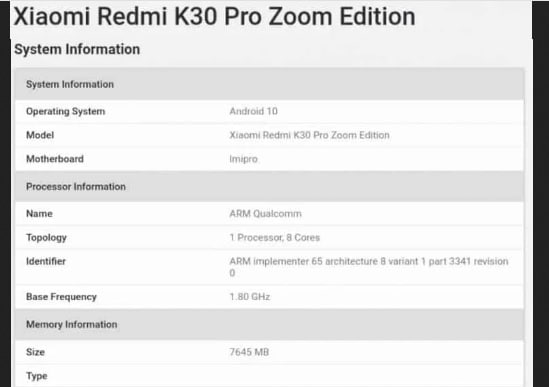 Before we talk about the features quality of Redmi K30 Pro Zoom Edition, its interesting to explore the what new enhanced sensor would bring to the table. Some time back there was news Samsung is going for 150MP sensor which is truly much ahead of the league. All this is meant to bring a very new dimensions to photography experience which has professional camera as competitor in the mind set.
The smartphone Redmi K30 Pro Zoom Edition has been listed on Geekbench also with some of the key information on features also. Its confirmed the model carries 8GB RAM and 64GB/128GB memory space. It will have Android 10 OS which goes with out saying. In the processor side, Redmi K30 Pro Zoom Edition has ARM based Octa core processor with 1.80GHz base frequency.
There are couple of models coming out in the market in last week of March 2020 and Redmi K30 Pro Zoom Edition may turn out to be one of them. Already Redmi General Manager Mr. Lu Weibing shared a small post through this model on Weibo which further confirms the arrival of this model.
One can expect Redmi K30 Pro Zoom Edition price in India to come around Rs. 21,999 though clear picture will come around month end only.