Now a days there are interesting variations offered in smartphone in India which is mainly due to heavy competition. Spice Dream Uno 498H comes with Hinglish keyboard which is not seen quite often. Also to ensure high affordability, Spice Dream Uno 498H price in India is just above Rs. 6K only.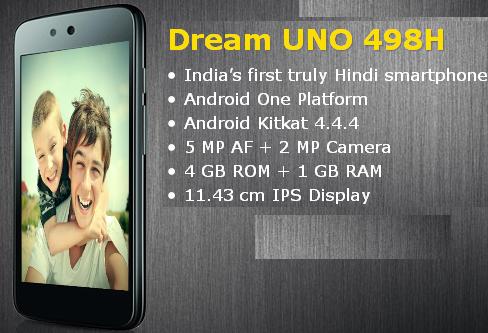 The latest smartphone Spice Dream Uno 498H is quite interesting as it is only one of the few models in India which is primarily focussed on users who are more comfortable in using Hindi but need to finally respond in English. Powered with Hinglish keypad, Spice Dream Uno 498H price in India is also quite low at Rs. 6,110 at online stores which is after good level of discount from its official price of Rs. 7,499. Spice Dream Uno 498H has been listed on Snapdeal and soon it shall appear on other sites also for buying. Spice Dream Uno 498H has 4.5 inch screen, 5MP primary camera, Wi-Fi, 3G and Bluetooth to ensure it also offers high usability in other applications.
Spice Dream Uno 498H smartphone comes with 4.5 inch screen which is quite wide but also it has 450×854 pixels resolution which is match with smartphone of 5 inch screen models. It has IPS display to ensure much impressive display especially during watching videos, images and working on graphics oriented items for long time. Spice Dream Uno 498H has Android 4.4.4 Kitkat OS which is slight better than 4.4 version which is normally seen in smartphone in India available in this price range.
To ensure it is suitable for young consumers, Spice Dream Uno 498H has 2MP front end camera for video chatting. Also the smartphone has 5MP main camera with Panorma, zoom, flash and HDR quality which will make sure the quality of images and videos are of very superior quality. Spice Dream Uno 498H model has 4GB of internal memory and hence users can store good number of images and videos. Also it has expandable memory of 32GB which can be utilized for storing games, videos and other heavy content.
Spice Dream Uno 498H is quite good in connectivity features also as it has Wi-Fi, GPRS and EDGE. It comes with pre installed browser to ensure smooth and safe surfing on the net. For navigation, it has been provided with GPS and also has free Google maps. With overall dimensions of 132X67X9.15 mm and light weight, users can carry it comfortably anywhere. Overall Spice Dream Uno 498H price in India especially for online buying is quite justified and soon it shall come down further also.
Spice Dream Uno 498H Features, specifications list
Screen: 11.43 cms, 480×854 pixels resolution, IPS display
Memory: 4GB ROM, 32GB of expandable memory
5MP primary camera, 2MP secondary camera
Dimensions: 132X67X9.15(mm)
Form touch, black color
GPRS/EDGE/Wi-Fi
Audio Player with 3.5mm jack
Apps: VAS Apps – AAJ Tak, Sony Live, Hungama, Spice Cloud