As we increase the amount of applications run on smartphone and also add more and more files, there is always concern for the privacy. Hence there is scope for smartphone which comes with security features like finger scanner though only few of the new models are able to provide efficient security system. One of the constraint we see is the speed at which these scanner works. They shall work with the speed of click and Spice V801 has that in kitty now.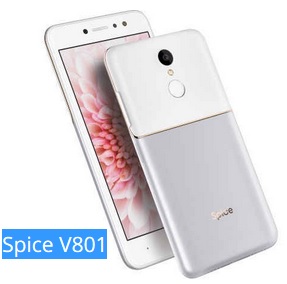 It has been claimed that Spice V801 finger print scanner operates in 0.01 seconds which is quite among the fastest. If we compare this with other simple security features like PIN, it is equally efficient in terms of time. Some time it becomes irritating when it takes more than expected time with scanner and we are in very hurry to open the smartphone but that will no longer be the case in Spice V801 in India.
Though from the company's point of view, smartphone Spice V801 price in India at Rs. 7,999 may be termed as competitive but we are not so impressed. However if security is key concern for you, than this model is quite fit for you. It has been loaded with Android Nougat OS and one can enjoy dual app for different platforms for Whatsapp, Facebook etc. at one point of time. You do not need to put down one app to move on to next on this smartphone. This will make it quite fast to catch up with friends on different apps in case you are falling short of time or need to interact with others on two apps simultaneously.
Rest of the feature list of Spice V801 is not ahead of competition but surely one would like them using though. It has 3GB RAM, 1.5GHz Mediatek process, Mali 720 GPU for graphics indicating playing game is also going to be fun here. The model has 16GB of storage and if there is need, one can expand it up to 64GB. The 4G smartphone has Volte support with two dual micro SIM slots.
The 2700 mAh battery will ensure you can keep Indian phone Spice V801 in stand by mode for 270 hours.