Oukitel C36 Price in India
There is no sense in spending money on smartphone if the requirement is met by a value for money model and also there is no need to migrate from 4G to 5G also for the sake of it. One would realize it more once you have a glance at Oukitel C36 smartphone which is simply amazing both in terms of features quality as well as its affordability. The latest 4G smartphone Oukitel C36 price in India is around Rs. 7,999 ($199 official price) which makes it one of the most affordable entry level 4G smartphone in Indian market. Powered with amazing features like 6.76 inch screen and dual security option Oukitel C36 is quite formidable model also (compare with Oukitel WP19 Pro price in 2023).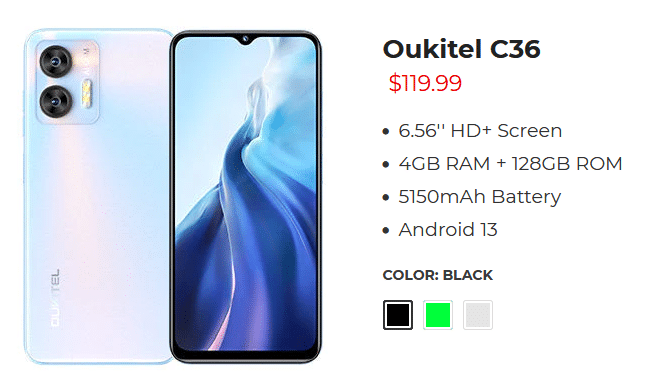 Oukitel C36 Features
Being a low budget 4G smartphone tag does not mean there is any short of compromise on the features quality of Oukitel C36 in India. The model comes with 6.79 inch IPS screen having water drop notch and 720×1612 pixel resolution. Not only it has 4GB of inbuilt RAM but if there is need one can expand it further to 8GB also. With face unlock on screen and finger scanner on sides, Oukitel C36 offers dual security for its users to ensure high security for data and other sensitive information. With Android 13 OS it also gives much better personalised, secured and higher efficiency while using different short of applications (also read information on price of Oukitel WP30 Pro 5G).
Oukitel C36 Features list
6.76 inch HD+ screen
IPS display quality
4GB+4GB RAM
128GB ROM
Android 13 OS
Face ID
Finger scanner
5MP front camera
13MP AI supported main camera
Oukitel C36 Specifications
Like any other smartphone in similar price range Oukitel C36 also has great deal in specifications which makes it even more interesting model. It is available in black, green and light blue color models in very slim shape with thickness of just 9.18mm only. It has 5,150 mAh battery with 10W charging capacity and gives good talk time of 25 hours. With UNISOC T606 SoC and octa core processor it is going to give very efficient level of performance.
Oukitel C36 Specifications list
Thickness: 9.18 mm
Weight: 199 grams
Color models: black, green and light blue
5,150 mAh battery
25 hours talk time
6 hours of video calling
10W charging
USB: Type C
2G, 3G, 4G network
Bluetooth: BT 5.1
Wi-Fi: 2.4G, 5.0G
Expandable memory: 1TB
GPU model: ARM Mali-G57 MP1
Oukitel C36 Review
Once you have a look at usability of various features and specifications of Oukitel C36 it can be easily said the model is quite good for normal applications. Whether its gaming, entertainment, messaging the smartphone will simply prove its worth. However if you are looking for very good level of output or performance than this model is not for you. The 4G smartphone Oukitel C36 is available for buying online at its official site though its not yet officially launched in India.
Find latest information on Oukitel C36 price in India in 2023 and details of main features and specifications here.