Oukitel WP30 Pro 5G Price in India
When rugged smartphone comes to mind the only thing that takes center stage is strength of the model but hold on for a second as this will change now. Come to the features quality of latest rugged smartphone in 2023 i.e. Oukitel WP30 Pro 5G and you will have much more to think about. It will be too much to say Oukitel WP30 Pro 5G is one of the best smartphone when it comes to features quality and yet available at reasonable price. Available for buying from Oukitel official site Oukitel WP30 Pro 5G price in India is expected to be Rs. 20,999 ($399 price in US).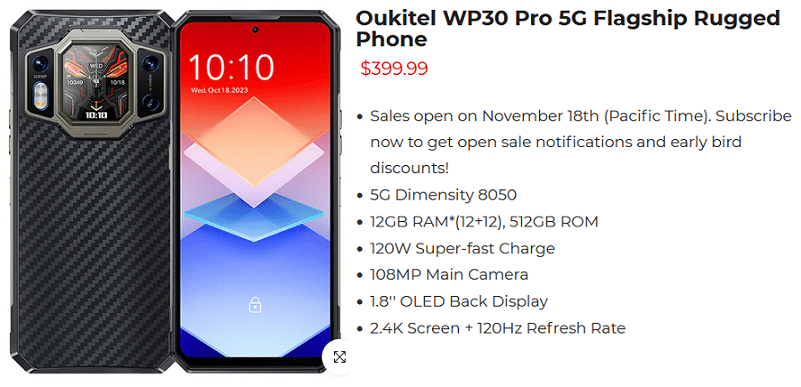 Oukitel WP30 Pro 5G Features
There is big list of features in Oukitel WP30 Pro 5G which makes it truly a monster smartphone for 5G network services and one of the very few models which have the potential to give true benefit of 5G network. With 6.78 inch screen will ensure there is much wider display and 120Hz refresh rate will ensure seamless streaming across the apps as well as with in a page whatever may the size of it. With 180W super fast charging Oukitel WP30 Pro 5G gets 50% recharged in just 15 minutes which is simply breathtaking.
Oukitel WP30 Pro 5G Features list
12GB+12GB RAM
512GB ROM
6.78 inch screen
180W super fast charging
Reverse charging
108MP Samsung main camera, 20MP night vision camera
32MP selfie camera
Finger scanner
Face recognition
5G Dimensity 8050 chipset
Oukitel WP30 Pro 5G Specifications
This is certainly a game changer smartphone on 5G when it comes to specifications of Oukitel WP30 Pro 5G. For better file transfer as well as high level connectivity it has Bluetooth 5.2 the quality of which will be obvious either to listening to music or receiving calls. There is dual SIM support which include either two nano SIM or one nano SIM and one eSIM. Available in black color its bit heavier with weight of 413.8 gram which is common for a rugged smartphone.
Oukitel WP30 Pro 5G Specifications list
Bluetooth 5.2
Dimensions: 177.483.619mm
Weight: 413.8 g
Color: black
GPU: Mali-G77 MC9
Battery: 11000mAh
Talk time: 45 hours
Oukitel WP30 Pro 5G Review
Since it is available at very mid level price range but carrying very high quality features and specifications Oukitel WP30 Pro 5G is truly a value for money rugged smartphone for 2023 and also in the next year 2024. This is a model which will bring a new level of user experience for 5G network especially when it comes to gaming, video streaming and photography.
This latest smartphone is yet to be launched officially in India but one can order Oukitel WP30 Pro 5G online at official Oukitel website at US price of $399. The final Oukitel WP30 Pro 5G price in India will come around Rs. 20,999 without adding shipping charges.