ZTE Blade V50 Vita Price in India
Not many Indian consumers are ready to shift to 5G network services in near future as they find 4G quite enough to meet their requirements. Such consumers are not tech savvy and would continue to work with smartphone which are quite moderate in quality level. For such Indian consumers ZTE Blade V50 Vita will prove to be quite interesting and also will fit into their budget. ZTE Blade V50 Vita price in India is expected to be Rs. 11,999 which is what normally price range of entry level smartphones. When it comes to features quality ZTE Blade V50 Vita has wide screen of 6.75 inch for better display, 4GB RAM which is not so appealing and Type C charger along with fast charging of 18W capacity.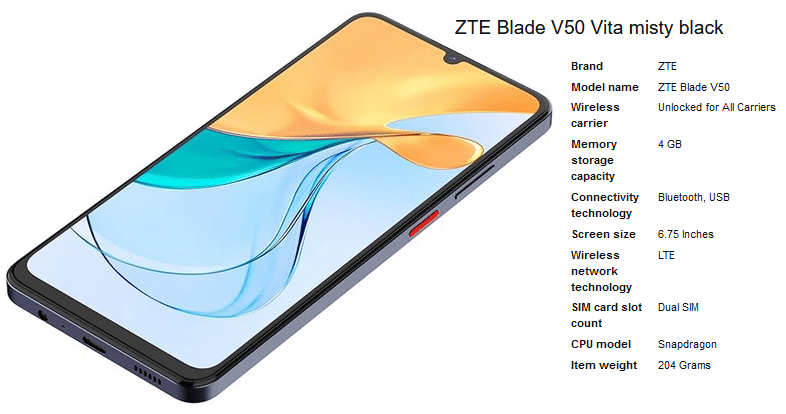 ZTE Blade V50 Vita Features
One of the main feature of ZTE Blade V50 Vita which one can say out of the league is its screen size of 6.76 inch. With this screen one will get better display of content from social platform sites, easy to chat and also better entertainment quality. The refresh rate of 90Hz is another important feature which will add to this though it may be much lower than what we see in high price models. With 18w fast charging it will be quite faster to recharge and one can enjoy application without much worrying about anything else.
ZTE Blade V50 Vita Features list
6.76 inch screen
4GB RAM
128GB ROM
Snapdragon processor
18W fast charging
90Hz refresh rate
ZTE Blade V50 Vita Specifications
There is lot one would see in the specifications of ZTE Blade V50 Vita which will prove this smartphone model to be worth having. It has water drop notch design and relative larger screen space to operate on. For security like any other low price model it comes with finger scanner which is placed on the right side of the model. There is Bluetooth for connectivity along with USB and Type C charger. For camera, it has 50MP main shooter along with 2MP macro and 2MP depth camera at the rear end.
ZTE Blade V50 Vita Specifications list
Triple camera: 50MP+2MP+2MP
8MP selfie camera
Finger scanner
Android 13 OS
Type C charger
5,200 mAh battery
Bluetooth
Weight: 204 grams
ZTE Blade V50 Vita Review
This model is quite good for users who are mainly looking for high quality photography in their low budget smartphone. Also for better entertainment ZTE Blade V50 Vita is one of the best model especially for playing videos. Not much can be expected from this smartphone in selfie quality. Also when it comes to performance on heavier applications this model may turn out to be out of the limit.
The smartphone ZTE Blade V50 Vita is already for online buying though not yet officially launched in Indian market. The final ZTE Blade V50 Vita price in India in 2023 will be just above Ts. 11,999 level.