Garmin Vivoactive 3 GPS Price in India
Now a days when it comes to smartwatches, its no more about fitness and heart rate monitoring but beyond that the consumer is expecting. Gramin which is quite active and aggressive in this segment has come out with Garmin Vivoactive 3 GPS which is first model with Garmin Pay ready and users can pay with this smartwatch which takes away the need for mobile wallets also. Available on Amazon, people can buy online Garmin Vivoactive 3 GPS at price of Rs. 13,202 in India. The earlier model did not have GPS which is available in this one and hence lot many additional apps and features available here.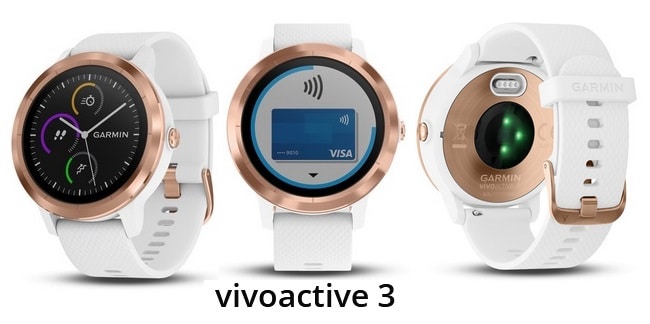 Garmin Vivoactive 3 GPS Features
One of the key features of Garmin Vivoactive 3 GPS is having GPS which will allow to track location, find path for new trekking and explore new areas. It come with 15 pre loaded GPS and sports apps including for yoga, swimming, cycling etc. Using its apps for yoga will be quite interesting as not many brands focus on this. Apart from Garmin Pay, users can also connect this model to compatible smartphone and communicate through text messages. Also one can always keep update on messages from social media accounts.
Garmin Vivoactive 3 GPS Features list

Pre loaded with GPS
15 pre loaded apps
Garmin Pay ready
Fitness level monitoring with VO2 max
Send and receive text messages
Garmin Vivoactive 3 GPS Specifications
The GPS enabled Garmin Vivoactive 3 smartwatch comes with 7 days of battery life in normal mode but on GPS it will last for 13 hours only. It allows for wrist based heart rate monitoring with Garmin Elevate monitor. There are multiple activities one can track during cycling, swimming and golfing etc. on this watch. At the end of physical activity, it will automatically upload it to the online community.
Garmin Vivoactive 3 GPS Specifications list

Battery life: 7 days in normal mode, 13 hours on GPS
Live track for safety and tracking
Clock specifications: GPS time sync, alarm, timer, stop watch
Sensors: GPS, Thermometer, GLONASS, Garmin Elevate
The latest Garmin watch Vivoactive 3 GPS is expected to be launched in Indian market officially during the month of Mat 2022. Also the price of Garmin Vivoactive 3 GPS in India may finally come around Rs. 10,999 also once its listed on more online shopping portals.
Source: Garmin official site in UAE