Garmin Vivosmart 5 Price in India
Though the model 4 was quite successful in the low price category, it took almost 4 years for Garmin to come out with next model i.e. Garmin Vivosmart 5 which is again going to be set in the similar price range in Indian market. Powered with improved features like 66% larger screen display and PulseOX sensor, the model is expected to be even better value for money option over Vivosmart 4 though Garmin Vivosmart 5 price in India is expected to be around Rs. 9,999 only.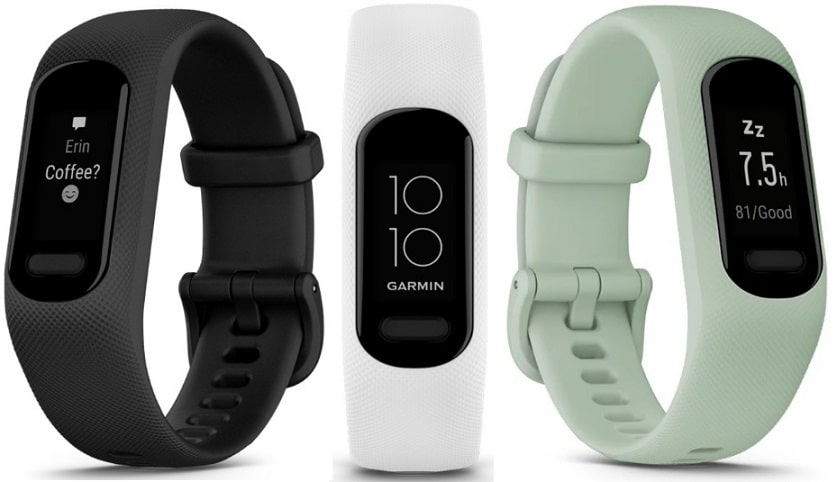 Garmin Vivosmart 5 Features
One of the main features of upcoming Garmin model Vivosmart 5 fitness tracker is larger greyscale OLED display which is 66% more than what was there in previous model. Since it has now both and touch option, users can easily operate it with both the options as touch sometime does not work while sweating and sweating. With larger display it will be also easy to read faster and from distance due to larger text size. Garmin wristband Vivosmart 5 also has PulseOX sensor to monitor blood oxygen which is critical factor in high intensity workout and trekking to high altitudes (compare with high price model Garmin Forerunner 955 in India).
Garmin Vivosmart 5 Features list

66% larger display
Greyscale OLED display quality
both touch and button option
lighter weight
sleep score for sleep quality
live location signal
safety and tracking function
Garmin Vivosmart 5 Specifications
The latest Garmin fitness tracker Vivosmart 5 comes with battery life of 7 days which is normal but that's what we can expect in low price fitness tracker. It comes with sports apps which provides all necessary basic information on stress level, calories level and counts also during physical activities like cardio, running, swimming, cycling etc. Also there is heart rate monitoring which is quite important during excessive burn out activities (you may also like like to read information on latest Garmin Tactix Delta price in India).
Garmin Vivosmart 5 Specifications list

7 days battery life
Sports app
Heart rate monitoring
3 color models: black, white and light grey
Option to connect smartphone and get alerts
In the coming period during April or May 2022 we could see launch of Garmin bracelet Vivosmart 5 in Indian market and listing at online store for online buying. The price of Garmin Vivosmart 5 is expected to be Rs. 9,999 and may come with attractive deals also. You may meanwhile like to read latest information on price of Garmin Forerunner 955 LTE model in India and Solar 955 model.
Source: WinFuture