HAYLOU Watch S8 Price in India
When there is no need for high end applications it makes more sense to have a smartwatch which meets the basic requirement and in the process we save money also by going for value for money model. The latest smartwatch model HAYLOU Watch S8 is simply meant for such consumers. The expected HAYLOU Watch S8 price in India is Rs. 5,999 ($88) for buying online from AliExpress. Though HAYLOU Watch S8 not available in Indian market one can order it online. The important features of HAYLOU Watch S8 smartwatch are 1.96 inch AMOLED screen, Bluetooth 5.3 for better quality phone calls and more than 100 work out modes.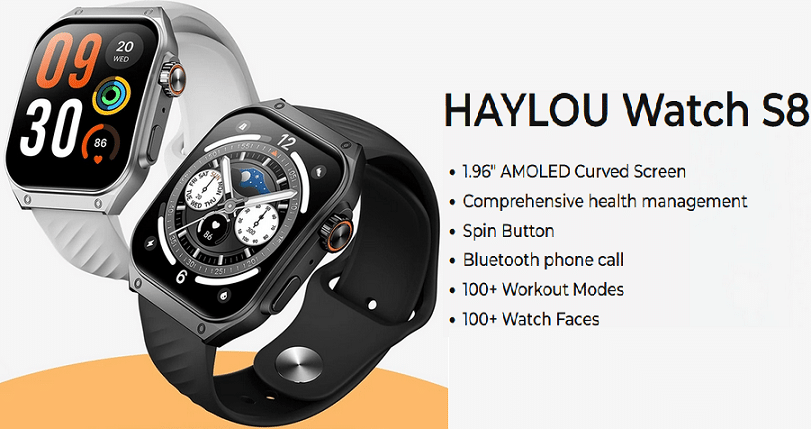 HAYLOU Watch S8 Features
With the presence of Bluetooth 5.3 feature the new smartwatch HAYLOU Watch S8 offer better quality calling experience than some of its competitors in the Indian market. Not only the voice quality is better but there is minimal interruption due call breaks in this model. The true advantage of this will be more evident when you are into weak network areas. HAYLOU Watch S8 also has 1.96 inch curved AMOLED screen with 410×502 pixels resolution which is slightly better than competitors and gives better viewing experience.
HAYLOU Watch S8 Features list
Bluetooth 5.3 with 2 in 1 chip
1.96 inch screen
AMOLED display
410×502 pixel resolution
Water proof: up to 30m
100+ work mode
100+ watch faces
HAYLOU Watch S8 Specifications
It is very easy to operate and navigate on HAYLOU Watch S8 thanks to the presence of spin button which can comfortable use even when you are doing exercise or cycling etc. There is comprehensive health management assistant that comes with this model which include blood pressure management, sleep quality monitoring and heart rate monitoring etc. For more support it has AI based voice assistant in different activities including gym exercise, trekking and normal day to day activities.
HAYLOU Watch S8 Specifications list
AI based voice assistant
Comprehensive health management

Blood pressure monitoring
Heart rate monitoring
Blood oxygen monitoring
Sleep quality monitoring
8 days normal usage time

20 days stand by time
HAYLOU Watch S8 Review
For entry level users who are involved in basic applications latest 2023 smartwatch HAYLOU Watch S8 will prove to be not only quite optimum but also good value for money also. In calling function also this is quite impressive due to its inbuilt 2-in-1 Bluetooth 5.3 chip. For healthy life style purpose also this model is quite formidable.
Find more information on HAYLOU Watch S8 price in India in 2023 for online buying and shipping charges.