myFirst Fone R2 smartwatch Price in India
There is great demand for specialized smartwatches for kids which can meet the demand of security, connectivity, entertainment and other applications. myFirst is Singapore based tech company which has exclusive device for kids and over a period of time it has upgraded them as well. Now it has rolled out myFirst Fone R2 which is practically a smartwatch phone which has been upgraded from R1 model in more than one way. Available at its official site at price of $199, myFirst Fone R2 price in India can be expected to be around Rs. 10,999 only.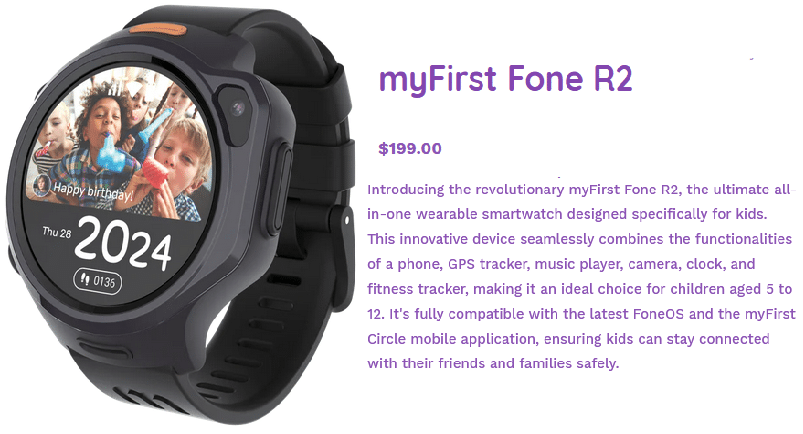 myFirst Fone R2 Features
Being a smartwatch phone myFirst Fone R2 comes with all the basic features of a smartwatch as well as a phone. It has 8GB storage space and works well with latest Fone OS. It supports 4G LTE network and can be used even for making video calls which is quite remarkable. In this way not only parents can interact with their kids using myFirst Fone R2 but also see them live on chat also. With 1.3mm AMOLED screen which will save power also using low power mode.
myFirst Fone R2 Features list
1.3 inch AMOLED screen
360×360 pixel resolution
Video chat
4G LTE network
8GB ROM
Fone OS
myFirst Fone R2 Specifications
Available in Acai purple color latest smartwatch for kids myFirst Fone R2 has very appealing specifications as well. It has magic button which if pressed one can call to mom, pressed twice can start video call and pressed and hold can send message to someone. Its placed suitably so that kids can operate easily with either left or right hand. There is great improvement in portability of myFirst Fone R2 as compared to R1 model as it has thickness of 13.6mm as compared to 16.5mm in R1 and lower weight also of 48 grams as compared to 55 grams in R1. Using this parents can not only see who their kids are interacting with but also can control it as well.
myFirst Fone R2 Specifications list
Acai purple color
13.6mm thickness
48 grams weight
Magic button
Battery: one day usage
MP3 for entertainment
myFirst Fone R2 Review
With light weight and slim design myFirst Fone R2 is quite fit for kids to use. Also with option to monitor their activities it is quite useful device to ensure safety of the kids. myFirst Fone R2 is most suitable for kids from the age group of 5-12 years. For working parents this smartwatch can be said to be of very high usage. Its not launched in India but interested users can order online at official site of myFirst Fone R2 for $199.
Find latest information on myFirst Fone R2 price in India in 2023 for online buying.