Karbonn K9 Kavach 16GB Price in India
The pace in the market has slowed down and now it seems the time is for formidable models rather. Initially many Indian companies also went for aggressive smartphone launches even though there was not much to differentiate them.
Indian brand Karbonn has rolled out its upgraded smartphone Karbonn K9 Kavach 16GB which has double the memory and RAM over its first model. However there is no impact on the pricing front at least it seems to.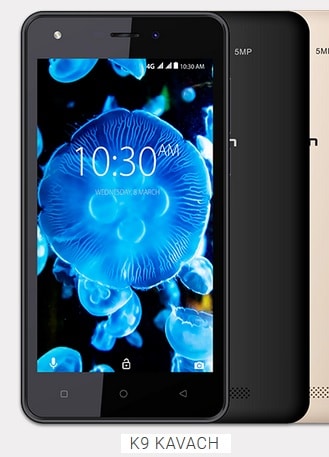 There are multiple price level on different online platforms but Karbonn K9 Kavach 16GB price in India can be as good as Rs. 5,999. Considering its overall quality features, it seems quite reasonable though one has to be careful about some of the old dated features available in this. We will go one by one so that the picture is preciously clear to the end users who are very price conscious in Indian market (also check Karbonn K9 Smart Yuva 2 price).
Starting with screen quality in Karbonn K9 Kavach 16GB, one would get 5 inch with 1280×720 pixel resolution and vibrate mode. It offers capacitive touch and backlit keypad for better visuality in darker condition. Frankly it got us little back foot when we had look at the camera on Karbonn K9 model Kavach 16GB as there is only 5MP AF on rear and 5MP on front end. This is one something one would find too exciting for high quality selfies or video recording. The new trend is for dual set of camera in which one is quite impressive.
On the processing front, Karbonn smartphone K9 Kavach 16GB features brings 16GB ROM as the model name suggests along with 2GB RAM. Even now for users who need lighter version can still buy 1GB RAM with 8GB ROM combination model. Even for larger ROM, the processor remains the 1.25GHz Quad core one.
If you main concern is for smartphone Karbonn K9 Kavach 16GB price in India, than this model will appeal to you but shall not ignore camera and processor qualities which can be drawback too.
Karbonn K9 Kavach 16GB Features list in India
5 inch screen with 1280×720 pixel resolution, capacitive touch, HD display
2G, 3G, 4G connectivity
5MP AF on rear and 5MP on front camera
Gold, grey and blue color models
161.3 g weight, 9.6mm thickness
16GB ROM with 2GB RAM
1.25GHz Quad core processor
GPS navigation
2,300 mAh battery with 10 hrs talk time