It shall not be surprise if we get to see more than expected growth rate in 4G consumer base in Indian market. The onslaught of low price models which many times fair even better than 3G holds the key to this trend.
Though not every Indian brand is there in the race but some are there as a matter of comfort and Karbonn is one of them which is come out with Karbonn K9 Smart Yuva 2 mainly for first time 4G users.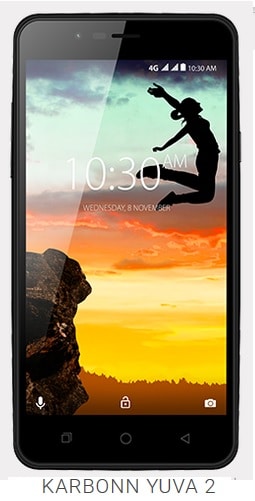 There is no official information on pricing of this model but since previous model of the series is available at Rs. 4,189, one can expect Karbonn K9 Smart Yuva 2 price in India also to be in the less than Rs. 4,500 category. This is not a huge bill for any average Indian consumer considering its an 4G model with many exciting features in the store (also read Karbonn Alfa A18).
Weight and dimensions shall not be the key features one shall be looking at in Karbonn K9 Smart Yuva 2. With weight of 170 grams and 9.61mm width, this is way out of what we see and also the trend in the market. People tend of like more and more slim and light weight models now a days. Apart from this, one more disadvantage of Karbonn K9 Smart Yuva 2 is 3 hours of charging time which is quite long and people who are used to fast charging may not go for it.
Rest of features list in Karbonn K9 Smart model Yuva 2 are simply appealing which starts with 5 inch screen with HD IPS display and premium brush metallic finish. There is 16GB ROM which is in match with models coming in the price range of Rs. 10K and hence worth appreciating. Both 2GB RAM and 1.25GHz Quad core processor are also noteworthy in this model which will ensure there is smooth streaming on media files.
With 5MP main and 3.2MP front camera, Karbonn K9 Smart Yuva 2 will turn out to be quite reasonable at least in photography also. One can enjoy Bluetooth, Wi-Fi, hotspot, 3G, 2G and 4G on dual SIM option in this model.
Hope to see new model Karbonn K9 Smart Yuva 2 price in India in the expected line only.