ASUS ZenFone Ares Price in India
Off late Asian countries apart from China and Japan have also seen new models launched before they arrive for other markets. Interestingly these are now copycat models but enriched with new features which makes the case even more interesting. ASUS has come out with ASUS ZenFone Ares which starting selling from June 16th 2018 on online stores. Price of ASUS ZenFone Ares for Taiwanese market is TWD 9,990 which comes around USD 500.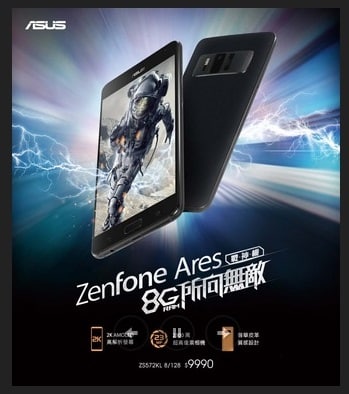 The new smartphone ASUS ZenFone Ares is quite impressive as it has both AR (augmented reality) and VR (virual reality) to enhance the quality of output. Also it embodies features to capture the dimensions of 3D while using the camera. The only drawback of ASUS ZenFone Ares comes from the fact it has Android Noughat which took a while for us to believe.
For quality display, ASUS ZenFone Ares has 5.7 inch super AMOLED screen which has oil resistant coating for keeping it smooth for longer period. On the rear end side, the smartphone carries 23MP camera and 8MP for selfies and video calling on front side. The main camera is well equipped to capture depth and other features in motion to record for 3D output (read ASUS ROG phone).
There is 8GB RAM and Qualcomm Snapdragon 821 chipset with Adreno 530 which is quite a impressive combination for processing. In given 128GB ROM, one can store almost every type of file like a laptop few years back. With expandable memory of 2TB, this is quite astonishing gadget to get hands on. Since the smartphone has been named on ARCore developer page, one can be sure it will be compatible with ARCore functionality.
With advanced technology like SonicMaster 3.0, it will be quite a better experience on entertainment front on ASUS ZenFone Ares smartphone.
The ASUS ZenFone Ares price in India shall come around Rs. 22,000 once its launched.
ASUS ZenFone Ares Features list in India
5.7 inch screen with super AMOLED quality
16:9 aspect ratio
8GB RAM
128GB ROM
2TB Expandable memory
Non removeable 3,300 mAh batter
Android N OS
23MP main camera
8MP selfie camera
AR and VR support