Nokia 5.1 Plus Price in India
This year HMD is going in a big way at least in terms of smartphone it has been lined up for different markets. For this year 2018 already we have seen announcement for 9 models from Nokia and now there is 10th also. Nokia 5.1 Plus is the model we have received leaks very recently and the model is touted to be between Nokia 5.1 and Nokia X6. Not many aspects especially inner ones have been made available but Tiger Mobile leaks gives clear picture on the exterior part of Nokia 5.1 Plus.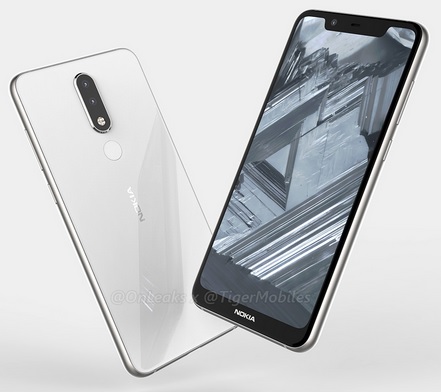 Some of the upgraded features coming up in Nokia 5.1 Plus over 5.1 model are availability of top notch and bezel less display. This is much in line with what some of the models from other brands have been able enjoy success in the market already. The very stylish designed smartphone is not sure which country it will land first. But it will not take long time before Nokia 5.1 Plus gets in to different markets successively. Here Nokia 5.1 Plus price in India (expected) will be slightly above the Nokia 5.1 model and more specific details will emerge out in coming months.
Its quite clear Nokia 5.1 Plus will carry single lens for selfies but dual lens with LED flash at the rear end. Along with ear piece, it will also have finger scanner on the back side. To ensure better voice quality, it has secondary micro phone for noise cancellation. Even if you are playing music very loud sound, there will not be any distraction to people sitting around you with this model (compare with Nokia 7 Plus model).
Nokia 5.1 Plus will carry USB Tyle C port as compared to just micro-USB which was there in previous Nokia 5.1 model. Apart from this model, HMD is also seeking NCC Certification from Taiwan for slightly better model Nokia X6 (you may like to read Nokia XL 4G which is a budget model).
Soon we will post information on Nokia 5.1 Plus price in India 2018 for online buying. It can be compared with Nokia 206 model in Indian market.